Get ready for a swashbuckling short break this Feb Half Term
Friday January 28th 2022
Lew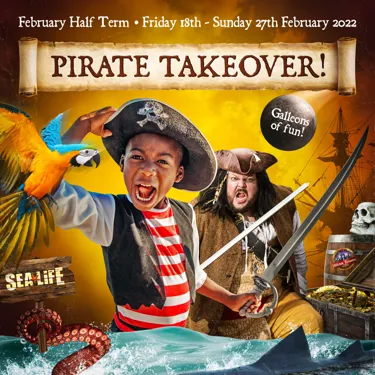 Ahoy me hearties! We're setting sail for fun this February Half Term and we're bringing you along with us! If ye be looking for the lowdown on our swashbuckling pirate themed February Half Term event, then ye' come to the right place! With treasure hunts, specially selected family rides and attractions, live entertainment and so much more, it's set to be a BLAST!
What's on this February Half Term?
From Friday 18th February, the infamous pirates of Mutiny Bay will take over the Resort – batten down the hatches and keep reading on – if ye dare!
Explore the Depths of the Seven Seas
Experience a brand-new SEA LIFE experience where pirate characters will educate and entertain with tales of sea monsters and adventure.
All shipmates need to be clued up on the marvels of the deep blue. Here's some fishy facts from Sharkbait Reef by SEA LIFE to set you aside from the other seadogs!
We have 7 different species of shark ranging from around 40cm - 250cm in length
We have 2 different types of rays, Cownose stingrays, and native Skate rays
Our largest tank, The Ocean Tank holds 30 different species of fish
Our largest animal is Hercules the Zebra Shark!
There are some venomous (but friendly) creatures too! Such as our Cownose Stingrays and little Yellow Boxfish.
Pirate-tastic overnight stays, with hidden treasures…
Since landing in his time travelling flying machine at the Alton Towers Hotel, Sir Algenon has brought with him treasures from around the world to make this his home. So, we're here to give you budding treasure hunters a guide on some of the hidden wacky artefacts, sights and delights you can experience during your extraordinary time! See if you can find all of the hidden treasures listed below:      
The Time Travelling Ship
Rock carvings of characters and creatures
Portraits and paintings from Sir Algenon's travels
Magical musical lifts
A giant chair
Talking tree
A magic mirror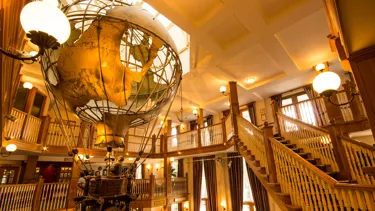 Make a splash at the wacky Waterpark
As part of your stay with ye hearties, you can take a tropical trip to Cariba Creek at the Alton Towers Waterpark. Set in the heart of the Splash Landings Hotel, it's a sprawling paradise of slides, waterfalls, and wacky splashtastic fun.
Get ye sea legs ready as we've rated some our exhilarating water slides:
Master Blaster: A speedy water-coaster that shoots you off into the distance quicker than you can say "AHOY!". One for the thrillseeking shipmates! Splash Rating: ⭐⭐⭐⭐⭐
Calypso Creek: Calmer crewmates might want to grab a rubber ring, lie back and relax on our lazy river tour of the Splash Landings Waterpark! Splash Rating: ⭐⭐
Rush 'N' Rampage: Two crazy water slides which live up to their name. Take your pick of five funky soundtracks and light themes to accompany your daring descent into the splashdown pool below! Splash Rating: ⭐⭐⭐⭐
Fire in the hole – there's plenty more fun to be had around Cariba Creek! From fountains, sprinklers, waterfalls and giant tipping buckets, it's not called Splash Landings for nothing!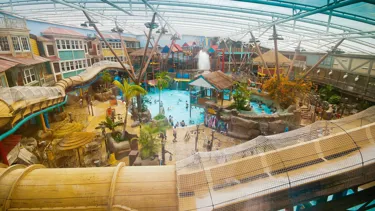 Extraordinary Golf
Beat those scallywags to a game of Extraordinary Golf, here are our top tips to help you avoid walking the plank!  
Don't hit it too hard – there's nothing worse than climbing in a bush to fetch a golf ball
Take your time – there's no rush! Slow and steady wins the race (or the game of golf in this case)
Use the terrain– Hills, banks and ramps are usually the best (and most fun) way to get that coveted hole in one
Pick wisely – Got a favourite colour? Pick a golf ball in the same colour to bring you good luck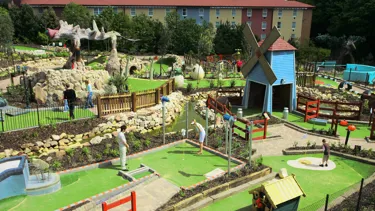 Aarrr there you have it me hearties, that's just a snippet of some of the swashbuckling fun you and your budding buccaneers can expect this February Half Term. We hope you enjoy your fantabulous adventures with the infamous pirates of Mutiny Bay. Don't forget to take plenty of photos and share them on our social channels.