Local Students Decorate Christmas Trees at Alton Towers Resort
Tuesday December 6th 2022
Laura
Christmas
Yes, our elves have been at it again and Christmas at the Resort is now well underway. One of the first things you'll notice as you make your way down Towers Street is that several of our trees are sparkling that little bit brighter. This year the elves have had some help! 
In November, we invited students from local schools to add some extra sparkle to our Christmas trees by making decorations of their very own to add to our trees on Towers Street. Several local schools took up the challenge and produced some special decorations that are now proudly on display at the Resort throughout our Christmas event. 
We've been working with local schools to produce art displays since 2020. So far, we've had a clock sculpture made entirely from fantabulous guitars, a colourful orb structure made up of individually decorated umbrellas, and now we've got fantastically festive with Christmas tree decorations. Seven schools took part, and each school had its very own tree within the Resort to decorate. The brief for the project was quite lengthy as design challenges had to be considered. For example, decorations had to be able to withstand some serious weather conditions – only the toughest of gingerbread cookie decorations would survive!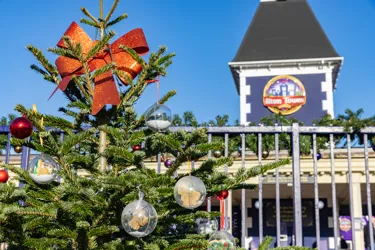 Bishop Rawle C of E Primary School took part and produced some fabulous winter hat-shaped decorations made of different coloured wool. They also came along to the Resort to decorate their tree themselves. Students, Abel and Ellana, who took part in the project said, "We used cardboard, string, and Sellotape to make the hats, we had to wrap the wool around the cardboard and tie it at the top". 
Student Luna said, "I like the different patterns and colours we used." 
Students Preston and Skyla said, "We like the glitter in particular, and just love the finished product, they look really good on the tree."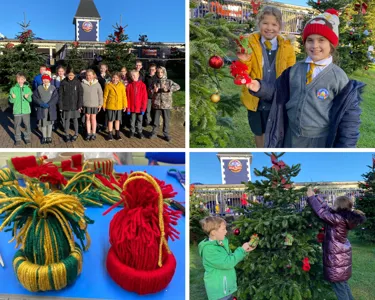 Student Arthur Sheriff told us, "The wool was tricky to work with, but I enjoyed making the decoration". He also shared that his mum and dad both used to work at the first-ever hotel at the Resort, which then sparked a lot of comments from other students about family members who had worked or still do work at the Resort. Student Lewis said his mum works here and one day he would like to work here, which made this project feel more special to everyone involved at the Resort. Mrs. Hamer, the art teacher who has supported the project at the school said, "It's really lovely to be back in the community and doing something that's linked to the community. Alton Towers is so important to the area for employment, it puts the whole area on the map. It's lovely having a link between a business and a school. All students were so excited to be at the Resort decorating a Christmas tree and looking forward to Christmas, but student Olivia summed up the thing everyone was most looking forward to about Christmas, and that was spending time with their families. 
The JCB Academy took part in the project and came along to decorate their Christmas tree. They took a very technical approach to their designs. Designs were made using computer-aided design software packages called OnShape and 2Ddesign. Designs were then sent to either a 3D printer or laser cutters, depending on what material the design was for, oh yes lots of different materials were used! I'll let the students explain in more detail as let's be honest, they're the experts! I spoke with four budding engineers; Wilson, Daisy, Zack, and Wyatt who talked me through some of the challenges of working with highly technical equipment. I was told that the inspiration for their designs came from the rollercoasters, with a lot of the decorations being about Oblivion, which they advised is a big, popular ride that everyone knows. They explained that the original designs were spherical, but that turned out to be too problematic, so the shape evolved to a cylinder shape. The decorations are smaller than they'd like, this is due to the time the 3D printer takes to print them. The 3D printer took around 4 hours to do one decoration! Other decorations were made from thin pieces of plastic or wood that were then cut by the appropriate laser cutter. Mrs. Mannion is the inspiring, engineering teacher and this is what she had to say about the project, "a real-life brief helps to focus ideas and allows students to follow through from inspiration to manufacture, to being on display somewhere lots of people are going to see. It's a real experience for them, it's fantastic, and they've enjoyed it." She went on to say, "Getting out of the classroom into the fresh air, getting decorations out, makes us feel very Christmassy, it's the start of the Christmas period for us."  
I asked the students what they were looking forward to the most about Christmas, Daisy said, "I like the aesthetic of Christmas and how happy everyone is, I'm looking forward to coming together with the family." We couldn't have said it any better, Daisy! 
Other schools that participated were Cheadle Primary, which hand-painted their Christmas designs onto clear Perspex baubles. They also used flat pieces of wood and hand drew colourful designs ranging from different rides and our logo. 
St Peters CE Academy used CDs as the solid structure to build their designs, students covered the CDs with hand-cut paper snowflakes covered in glitter. 
Abbey Hill School and College used hand-drawn designs covered with different Christmas phrases and patterns, laminated their work, and then moulded it into a 3D origami shape. 
Forsbrook Academy filled Perspex baubles with brightly covered salt dough decorations in different shapes such as stars and gingerbread men. 
Ryecroft Middle School filled Perspex baubles with glitter and other handmade Christmas-inspired paper decorations. 
The artwork will be on display at Alton Towers Resort, just a stone's throw away from the enchanting Christmas Market, which is full of tasty treats and festive delights, as well as seasonal entertainment! This festive season you can also marvel at the award-winning Lightopia, which has returned for 2022 with impressive new installations and interactive experiences, plus, ride over 20 family rides and attractions, including the UK's only CBeebies Land and The World of David Walliams! 
Schools that took part in the Alton Towers Resort Christmas Tree Project are: 
- Bishop Rawle C of E Primary School (came to the photoshoot) 
-The JCB Academy (came to the photoshoot) 
- Forsbrook CE Primary School 
- St Peters CE Academy 
- Ryecroft CE Middle School 
- Cheadle Primary School 
- Abbey Hill School and College