Rock 'n' Rollercoasters…. it's Festival of Thrills
Wednesday April 13th 2022
Louise
Events
Alton Towers Resort has kicked-off its thrilliant programme of events with a brand-new celebration of the Resort's awesome, world-class rollercoasters as they reawaken for the 'Festival of Thrills' and are brought to life like never before: in an immersive burst of performances and live music.
The UK's ultimate destination for thrills thanks to several world-first and European ground-breaking coasters, Alton Towers Resort is celebrating its legendary heart-pumping loops, speeds, drops and turns of its most iconic attractions with an adrenaline-inducing event that's providing a creative twist for guests until May 6th.
Each of the Resort's big seven rollercoasters are alive with visual and audio representation for guests to enjoy thanks to a series of bands, musicians and performers set on a series of stages located at each attraction.
From midday each day, Oblivion, Wicker Man, Rita, TH13TEEN, Galactica and The Smiler are represented by a music genre that links to the coasters theme and story, from Electro Pop and synth, Grunge and Pop Rock, as well as Drum and Bass to Gothic Pop Classical, the celebration is set to hit the high notes for families and thrillseekers alike. Acoustic folk rock, Dance and Indie folk will also be on offer as bands take centre stage at the Resort.
To celebrate our awesome rollercoasters and our brand-new event, we wanted to share what some of your favourite rollercoasters are and why.
"As you board the ride you feel the adrenaline running through you in anticipation. The restraint clicks shut and you feel yourself drawn backwards, now facing the ground, then climbing the lift hill, you hear the release at the top, and feel the rush as the ride sets off on its journey - with you enjoying every moment, the feeling of flying makes Galactica my favourite ride at Alton Towers."
Deb Moore
"My favourite roller coaster at the Resort has to be Nemesis! The pure unadulterated rush of adrenaline this incredibly iconic roller coaster provides is absolutely second to none. Couple that with the rich history of this amazing ride and you have yourself a legend in the making.
For me Alton Towers just wouldn't be Alton Towers without the iconic roar of the beast echoing over the tops of the trees as you make your way towards the start of your day on the park's iconic entrance plaza!"
Joe Marshall, Theme Park Insanity
"Our favourite rollercoaster is Nemesis! We love the intensity, theme & backstory but also just how iconic it is!"
Emma Louise, Coasters on the Coast
"I'd have to say my favourite rollercoaster is Nemesis, it's a ride that year after year never fails to amaze me, I never get bored of this absolute legend. The staff are always wonderful, the ride
experience is always intense and it will always stand head and shoulders above the rest as the jewel in the Alton Towers ride crown."
Sean Evans, Lift Hills and Thrills
"Our favourite rollercoaster at Alton Towers is Wicker Man, flying through the heart of The Beornen with fire effects going off above you is awesome."
James Allgood, Theme Park Guide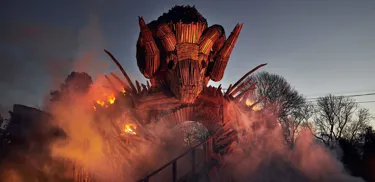 Experience over 40 rides & attractions
Save up to £33 when you book in advance
Under 3's go free to the Theme Park
Enjoy a stay in our on-site hotels
Bed, breakfast, entertainment & Extraordinary Golf
Add tickets for guaranteed entry