Screams, Thrills and Chills: Our Top 10 Tips on celebrating Scarefest 2023 like at pro this October!
Wednesday October 11th 2023
Sophie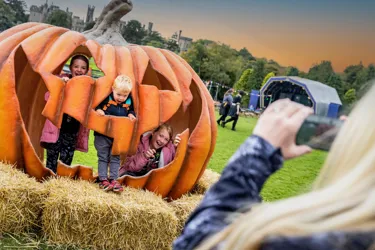 With spine-tingling scare mazes, eerie decorations, and hair-raising rides in the dark, it's the ultimate Halloween event this October. To make the most of your Scarefest visit, we've put together our top 10 tips to ensure you have a scarily fantabulous time! 
Navigating the Nightmares - Download the Alton Towers Resort App 
Unlock the secrets of Scarefest with the Alton Towers Resort app, your trusty companion through the twisted terrors of the Towers. This digital wizardry grants you access to the real-time ride availability, spine-tingling show schedules, and an interactive map that'll guide you through the eerie enchantment of Scarefest.
Download now
Scares first, Screams after 
To experience the full range of spooky attractions, arrive at the park as early as possible! Our top tip is to book the early time slots to our thrilling scare attractions to experience shorter queues and maximise your rides in the dark…Remember we are open from 10am till 9pm on all Scarefest dates!
BONUS TIP: Don't forget our NEW scare zone, Burial Grounds, located outside Wicker Man! This immersive experience is free-flowing and included in your admissions ticket. We recommend facing the Unchosen after dark for the best experience… 
Book now
Ghoulish Glam – Dress for success!
Get into the Halloween spirit by dressing up in your spookiest costume! We encourage guests to embrace the spooky spirit in their best (or worst!) outfit, adding to the overall ambiance of the event.* 
 
*Please note whilst fancy dress is permitted, full-face fancy dress masks/coverings are strictly prohibited. 
Little Monsters Welcome! - Experience scares for the whole family
Scarefest isn't just for big chills and thrills! This year's event is host to a whole load of family-friendly entertainment where even the littlest of monsters can enjoy Halloween fun without the intense scares. Head to the UK's only CBeebies Land for the Monster Ball featuring some of your favourite CBeebies friends, catch our Freaky Five characters over on the Front Lawns for the ultimate Halloween party and explore the spooktacular Trick O Treat Town with Haribo where everyday is Halloween. Family-friendly frights never looked so good!
Find out more
Elevate the Scares – Venture into the Alton Towers Dungeon 
For an extra dose of spine-tingling fun, combine history and scares with a journey into the Alton Towers Dungeon this October. This immersive experience offers a unique, historical twist to your traditional Scarefest experience, bringing the eerie past to life through captivating storytelling, live performers, and special effects. It's a chilling addition to your Scarefest line-up for only £11!
Book now
Fuel the Fear – Dining Delights at Scarefest! 
Your Scarefest adventure is likely to be a long one, especially with all the screams and scares to fit in. Stay hydrated and energised by enjoying the park's scarily delicious food offerings! From creepy cupcakes to freaky fries, indulge in a selection of Halloween treats across the park to keep you going all day long.    
Spooktacular Spectacles – Catch our live shows and entertainment!
Scarefest offers a variety of spine-tingling, family-friendly live entertainment and shows throughout the day. Take a look at the schedule on the Alton Towers Resort app and catch some of the spooky performances to break up your day. 
Hello darkness, your best friend – Experience over 40 world-class rides and attractions after dark! 
That's right! The Resort will stay open till 9pm each and every Scarefest evening, meaning you can experiences our thrills like never before. Plunge 180 feet into complete darkness on Oblivion before feeding the flames on the iconic Wicker Man. Don't forget to embrace the spooky spirit on our NEW dark ride, The Curse at Alton Manor. Remember…she just wants to play.  
Capture the feat – Share your Scarefest moments! 
Snap spine-tingling pics at the park's epic photo ops, and share the thrills by tagging your posts with #altontowers & #scarefest. Let us in on your chilling adventures and share your scares! 
Sleep. Scream and Score your 2nd day free with an overnight stay! 
Scarefest continues after dark, and the park takes on a whole new level of spookiness. Extend the thrills with a spooktacular overnight stay at one of our on-site accommodations! The best part? You'll receive your 2nd theme park day free when booking a short break this October, doubling the fun and ensuring you can savour every scare Scarefest has to offer.*
*T&C's apply
Book now
With these top 10 tips, you're ready to embark on a hauntingly good time at Alton Towers Resort's Scarefest. Brace yourself for a day filled with thrills, chills, and unforgettable memories! 
Enjoy your Scarefest adventure and remember to have a frightfully good time…