Swashbuckling Fun this February Half Term!
Thursday February 16th 2023
Elle
Events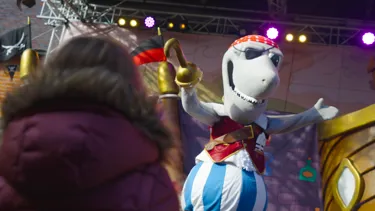 Ahoy me hearties! Have you heard the fantabulous news? The Pirates of Mutiny Bay have returned for February Half Term and taken over the Resort from 11th – 26th February, with galleons of pirate activities… and we're here to tell you all about it!
For the first time ever, we have opened this event up to day guests to experience all the excitements of the Pirate Takeover for a couple of hours of Half Term fun, check out below our exciting park offering:  
Heave Ho!

-

 

Rocking and twisting on top of the waves across Mutiny Bay. Heave Ho is the perfect ride for little pirate adventures!

 

Marauder's Mayhem

- Step inside the gunpowder barrels and get ready to swirl and twirl as you spin your crew around at swashbuckling speeds!

 

Sharkbait Reef by SEA LIFE: ALIVE – Secrets of the

Smugglers

- Take an interactive journey through Sharkbait Reef and meet a crew of dastardly pirates who have evaded capture by adopting the incredible survival techniques of the open seas!

 

 

Pieces of Eight Treasure Hunt

-

Grab your maps and set out on an interactive quest to uncover the secret password that will reward you with a share of treasure.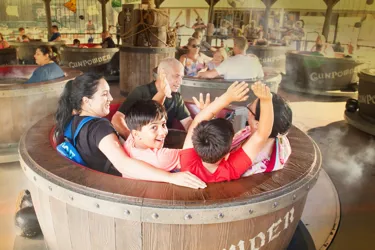 …Don't forget! We've also got an awesome line-up of daily live entertainment taking place in the Mutiny Bay Courtyard: 
Captain Finn's Pirate Training Camp

: 11:15, 12:45, 14:15 

Live music: Avast ye! Sea Shanties with Pirate Bob

!: 11:45, 13:15, 14:45 

Pirates: The Curse of Mermaid's Cove:

12:15, 13:45, 15:15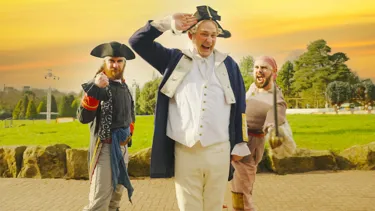 You can experience all of this and more for just £15 per person, the perfect way to pack in some buccaneering fun this Half Term! 
For those looking for a short break adventure, we've got just the solution! We also have fantastic Pirate Takeover short break packages in our fantabulously-themed accommodations. As well as including your overnight stay, a scrumptious breakfast, entrance to our wacky Waterpark and 9 holes of Extraordinary Golf – we of course have a spectacular line of up themed entertainment to wow you all throughout the evening! From discos to magic shows, here's what's coming up at the Resort's accommodations every day this February Half Term: 
Alton Towers Hotel  

Splash Landings Hotel 

4.45pm Pirate Take Over  
5.30pm Magic Show  
6.00pm Disco Games 
6.45pm Walk the Plank Bingo 
7.15pm Pirate Disco 
8.00pm Swashbuckling Family Gameshow 
8.45pm Pirate Take Over 
9.30pm Pirate Party 
10.00pm Finish 

 

5pm Calypso Crew Disco 
5.15pm Pirate Ringo's Tropical Party Pirate Takeover 
6.00pm Pirate Takeover 
6.30pm Magic Show 
7.00pm Disco Games & Party Dances 
8.00pm Pirate Takeover 
8.30pm Swashbuckling Family Gameshow 
9.30pm Pirate party  
10.00pm Pirate Disco 
10.30pm Finish 
But wait, there's more! Our guests can also take on our Treasure Hunt Quest and solve clues around the Hotels, Waterpark and Extraordinary Golf to earn themselves a prize, perfect for all budding explorers!   
Wow, this sounds like a whole lot of fun, we can't wait to see you all this February Half Term for our first Thrilliant Event of 2023!