Tom Scott faces an emotional rollercoaster
Thursday June 23rd 2022
Elle Thomas
For many, Alton Towers Resort is the number one destination for unforgettable fun and thrills, taking on some of the world's fastest and most exhilarating rides.
But for some, this can bring a perpetuating fear, through the phobia of rollercoasters named veloxrotaphobia. With an estimated 10 million people in the UK alone suffering with a phobia, it is no surprise that the thrilling tricks and turns of a rollercoaster may bring on a phobia for some.  
However, this extreme phobia was soon to be put to the test as we invited YouTuber, Tom Scott, to the Resort, to go behind the scenes and overcome his fear of rollercoasters. His fears ranged from the lack of control, the stomach dropping feeling he describes as a free fall drop, even the 'click-clack' sound of the lift hill. With 5.02 million YouTube subscribers and a total of 1.2 billion views, Tom's YouTube online videos prove extremely popular with a loyal following. After seeing him take on previous challenges, including aerobatics and glider loops, Tom explained that this was his biggest challenge to date.  
Tom's first stop was Runaway Mine Train, a favourite of young thrill seekers loving to whiz around the twists and turns of the 1000ft track. Before taking to the ride, Tom met Jordan Johnson, Electrical Engineer, who explained the safety procedures and confirmed that there are none of Tom's dreaded 'free fall drops' during the ride! Once on the ride, Tom told himself 'I can control the panic', and took to the ride remarkably well, breathing through the experience and even showing a smile, but was he ready for what was yet to come?  
Next up, Wicker Man, the UK's first wooden coaster built in over 20 years, with a height of 20 meters and top speed of 44mph. Franklin Ashbrook, Electrical Engineer, took Tom to the top of the lift hill on the wooden coaster track, checking the sensors and completing other daily checks. Once the checks are complete, it's time to ride and Tom describes having 'pit of the stomach dread'. After the first drop, Tom's fear turns into pure joy as he smiles, and fist pumps the sky to celebrate this huge milestone in overcoming his lifelong fear.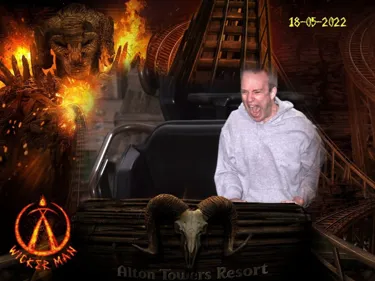 Finally, it was time for the final challenge…Nemesis, which features a 32m drop and plummets you underground at a top speed of 81kpm. Tom meets the final ride engineer of the morning, Andy Walker, Multi Skilled Engineering Supervisor, who guides Tom through the opening checks, confirming the safety of this heart-pounding ride. 'This is much worse than Wicker Man' Tom proclaims as the ride takes off, with his legs suspended in thin air and clinging on tightly. Just seconds later, you can visibly see Tom's rush of energy as he erupts with ecstatic laughter, a true moment of euphoria and he exclaims 'I love roller coasters!'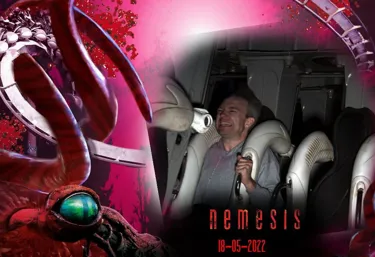 After thanking all the staff members, Tom turns to the camera, and in a moment of high emotion, says: 'All the years, that I could have been going on that. All the years of my life that I spent not going on things like that because I was scared. I could have gone on that when I was what, twelve, thirteen? I've been to Alton Towers enough times. I have spent so many years being scared. And I'm not anymore, I wanna do that again, I want to do every roller coaster in this park.'. This was met with cheers, woops and a round of applause as Tom goes on to say, 'that's one of the best things I've ever done'. 
A triumphant result! Tom has since gone on to say, 'the phobias gone' in 'a life changing moment'. He explained that 'a fundamental part of my identity has suddenly, drastically, changed for the better. And all I had to do was not be afraid.'. But don't just takes Tom's word for it, in a recent Forbes article, riding thrill rides and overcoming the fear is said to have a dramatic, positive impact on mental health. This can be due to the release of endorphins on the rides, an increase in heart rate and the therapeutic benefits of letting out a good scream! 
Here at Alton Towers, we are all so proud of Tom for this true roller coaster of a journey to overcome his extreme phobia and has now joined the thrill seeker family. But what does Tom's loyal 5.02 million YouTube following make of his recent challenge? Top fan, Admiral Mitten said 'As someone with a lot of anxious tendencies, watching Tom preparing for the second coaster was very hard due to the sheer amount of empathy I was feeling. Watching him get over it on the ride and start laughing was an amazing moment, honestly inspiring. A real emotional rollercoaster.' And Aurora Borealis commented: 'I actually started crying when he started laughing, just that pure, cathartic euphoria, it's like smashing straight through glass it was an incredible experience watching Tom go through this journey. thank you for having the confidence to share this, I know it will inspire many to not just try rollercoasters, but something they have a phobia of.' We would call that a roaring success, once again, a huge congratulations to Tom, we look forward to hopefully seeing you again at the Resort soon!