Top 10 Tips for visiting Alton Towers Resort this Easter
Friday March 31st 2023
Elle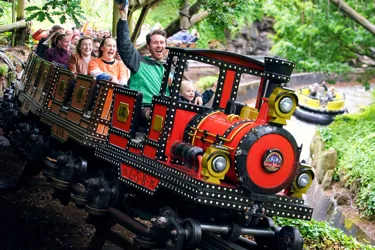 Alton Towers Resort has something to offer everyone this Easter, from fun-loving families looking to maximise the Easter holidays with hours of fun, to Thrillseekers ready and raring to go to take on our world-class, thrilling rides! We want to ensure you a fantabulous adventure packed with fun and thrills galore, so check out our handy top 10 tips below for all the hints and tricks this Easter holidays.
1. Download the free Alton Towers Resort App and theme park like a pro!
Get up to the minute queue times for all your favourite rides, use the map to navigate around the park, download your digital ride photos, upgrade your tickets and even check in to your hotel room with ease thanks to our free app! The App will also help you see what rides are unavailable at certain times of the day to avoid any missed rides and disappointment. It's packed full of amazing features to help you get the very most of out your escape to Alton Towers Resort!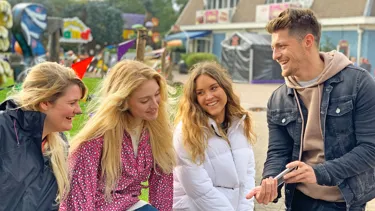 2. Fastrack your way through the theme park!
Looking to reduce your waiting time this Easter? Why not upgrade with a Fastrack, giving you priority pass access to our dedicated ride entrances, meaning you can maximise your time on thrilling coasters! We have a range of Fastracks available depending on what rides take your fancy! Our Bronze Fastrack from just £30 includes the brand new The Curse at Alton Manor, however the Gold Fastrack includes 14 epic rides to whiz your way around!
3. Tickle our taste-buds outside busier times
Dining outside of the peak lunchtime hours of 12pm – 2pm can help you avoid a wait for food and mean more ride time! There's also plenty of delicious dishes and snacks you can pick up on the go from stalls across the Theme Park. Dine in options are also available for a more relaxed dining option during our visit. For the ultimate theme park food experience head to Rollercoaster Restaurant (situated in Forbidden Valley) where your food is served via a series of twist s and turns along the track above our head! During busier times, such as Easter, the restaurant is walk-up only – so no need to book!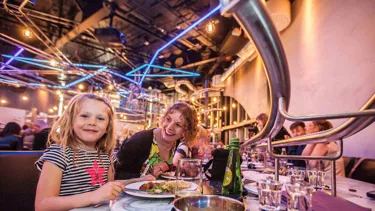 4. Plan your route
Arriving at the Resort there's so much to see and do! Spend some time planning what you want to see and do in advance. This can even be on route to the Resort. Use the 'My Plan' within the free Alton Towers Resort App to help you build your ultimate day out. You can do this for yourself and also everyone in your party – from mini fun-lovers to daring thrillseekers and everyone in between. It will even make suggestions on rides and attractions based on who's in your party to help you experience everything on offer.
5. Arrive early
Make the very most of your day by arriving as the park opens, you can find opening times here. Our car parks open an hour before the Theme Park, sometimes earlier during peak times such as Easter. You will need to allow additional time to walk or travel via monorail to our turnstiles to start your Theme Park experience, especially during busier times.
6. Be more green and car share
Car parking charges apply at the Resort. Car sharing is not only better for the planet it can also save money by splitting the £7 car park charge between friends and family. Visiting from the local area? Selected buses operate from the nearby cities and Stoke on Trent railway to help you travel more green to the Resort. You can find directions, bus timetables and train information here. As a Resort we are doing our bit to be kinder to the planet too. You can learn more about this here.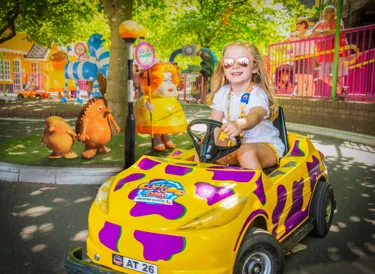 7. Smoke in the zone!
We don't at all mind guests smoking/vaping during their visit, however, as family friendly Resort we do ask that you use the designated areas. These are highlighted on the park and on the map with a red 'S'.
8. Accessibility facilities and Ride Access Pass
If you need assistance or support during your visit you can check out all our available options and facilities ahead of your arrival on our dedicated page including ear defender hire, changing place locations and information about our dedicated sensory Quiet Rooms. The page also details the latest changes to our Ride Access Pass application, which must be completed online at least 7 days ahead of your visit.
9. If you snooze you won't lose (out)
In fact you'll make the most of it thanks to evening entertainment exclusively for our hotel guests and free parking! Throughout Easter we have lots of options to help you turn your visit an unforgettable overnight experience. Thanks to our range of themed accommodation, you can choose from self-catering Stargazing Pods from as little as £100 on selected dates during the holidays, based on a family of four. Our hotels also offer an array of themed accommodation, from calypso climate of Splash Landings Hotel or the colourful world of the UK's only CBeebies Land Hotel, all uniquely designed for young families. Whichever you choose, it will be a night to remember this Easter.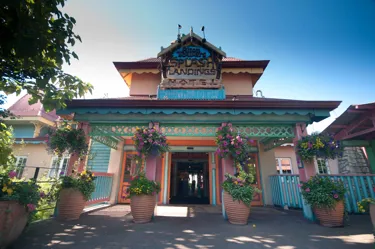 10. Our ultimate top tip…..
Did you know that our advertised close time is the time our ride queue lines will typically close on many of our rides! Don't miss out on your last ride. Getting into a queue a few minutes before this time will ensure you get that all important last ride of the day – result!
And there you have it! We hope our handy 10 hand top tips come in useful for your fantabulous adventure this Easter. But of course, when at the theme park, if you ever have a question or concern, our friendly and welcoming staff will always be ready to help any guest with any issue, no matter how big all small. We can't wait to see you all soon.