Towers Loving Care update
Friday March 26th 2021
Kate, Head of Guest Excellence
Towers Loving Care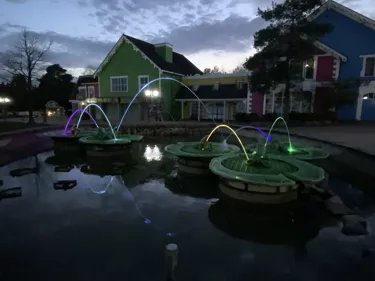 I'm so proud to share with you some of the TLC work that has been going on behind-the-scenes. Every year we carefully assess the Resort, reviewing areas where investment is needed and put our guests at the heart of this. We have missed you and can't wait to see you for our 2021 season!
What has changed?
No. 1 Towers Street – we have created a new Guest Service and Accessibility Centre as a place to take your feedback, assist with any accessibility requirements, take receipt of lost property and assist with any other general requirements during your visit.
The existing Resort Box Office has been given a fresh new look, this is now where you can purchase tickets for our attractions, including Fastrack, the Dungeons and car park. Our brand new PomVom photography team will also be based here where you can purchase your photo memories from your day. Every building on Towers Street has been repainted to give it a new lease of life and there are new, exciting graphics on the windows.
Twenty-five years after being introduced to Towers Street, we're delighted to share the iconic Frog Fountains are set to dazzle and delight guests entering the park with a brand-new look and light installation. The much-loved feature has been lovingly restored, which is sure to grab your attention as you come down Towers Street ready for a fun-packed day.
Battle Galleons – lots of work has gone into this project to give the attraction a new lease of life after voyages across the rough seas have started taking their toll. We have lovingly repainted the main galleon and refreshed key theming elements such as the skeletons, jewels and wood. On shark island, the shark has been repaired and repainted and we have refurbished the wooden crates and ships wheels – AHOY! The barrels around the ride have all also been replaced, we've installed flags and incorporated skull and cross bones onto the sails of guest boats. Get ready to batten down the hatches and jump aboard for galleons of giggles!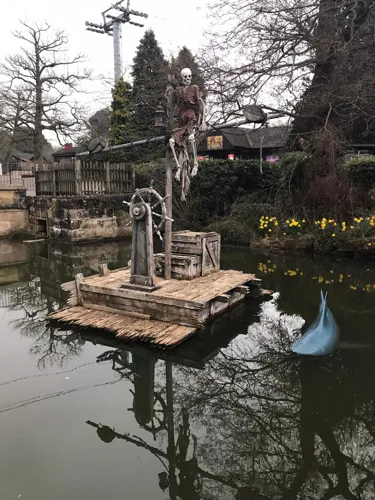 Congo River Rapids – to keep in line with the African safari theme of the ride, a new Katanga style theme has been installed to the queue line! Look out for the new mask and paddle features which sit in the bays of the waterfalls and enjoy some splashtastic family fun!
We have also sprinkled the magic in the UK's only CBeebies Land, the outer building of TH13TEEN has been refreshed, a new accessible ramp has been built in front of Duel, and a new accessible toilet block has been installed in the Gloomy Wood. The Oblivion symbols around the hole have been repainted with a new vibrant orange colour to catch your eyes as you plummet the 68mph drop, the Spinball Whizzer interactive counter is rolling again as you enter the main queue line, Feather McLaw in Mutiny Bay has had brand new theming and new rope and the Sharkbait Reef by SEA LIFE frontage has had a refresh!