Toddlers Theme Park Itinerary
Home to CBeebies Land and all your favourite CBeebies characters, Alton Towers is the perfect theme park for toddlers and young children. With so much to do, here's a helping hand to plan the ultimate day trip itinerary.
Arrival at Alton Towers
We know that young children wake up early, especially when they're excited! Make the most of your family day out at Alton Towers by arriving early. The gates open at 10am every day that Alton Towers theme park is open. 
The car park and monorail are open from 9am. We recommend taking the monorail as it takes between 10-25 minutes to walk from the car park to the theme park gate. That's a long way for little legs!
Your route around CBeebies Land
CBeebies Land is home to some of the best children's theme park rides and attractions in the UK. With all our preschool rides and attractions in one place, it should be possible to take part in all of the fun on offer.
Plan your day to include a combination of children's rollercoaster rides and interactive amusement park attractions.
Top Kids Theme Park Rides:
Get Set Go Tree Top Adventure - The perfect place to start your family day out. Wake up the sleeping bugbies as you glide high above CBeebies Land on this beginner's rollercoaster track. You'll see some of the popular kids rides below and can plan your day in the air!
Postman Pat Parcel Post - The post comes early in the morning! Help Postman Pat to solve the muddle and deliver his post on the UK's only Postman Pat ride.
Peter Rabbit Hippity Hop - The newest addition to CBeebies Land lets you jump high in the sky and leave your tummy up in the air. Enjoy this ride before you stop for lunch!
Go Jetters Vroomster Zoom - You'll look down on this ride from Peter's Hippity Hop and want to climb straight on board! Take the wheel of the Go Jetters Vroomster on this family favourite funfair ride.
Bugbie Go Round - Take a turn on this child-sized carousel. Look out for your favourite characters wandering around as you get a 360 view of CBeebies Land.
Octonauts Rollercoaster Adventure - It may take all day to build up to it, but you're never too young for your first rollercoaster! Join the Octonauts on this exciting, colourful rollercoaster for kids.
In the Night Garden Magical Boat Ride - wave to iggle piggle from this child-friendly boat ride through the forest. The most relaxing way to get ready for hometime.
Interactive Children's Play Areas and Attractions
As a theme park designed for toddlers, there are plenty of imaginative fun activities for young children and those under 0.9m tall. These attractions are fun for kids of all ages and can be enjoyed between rides all day long.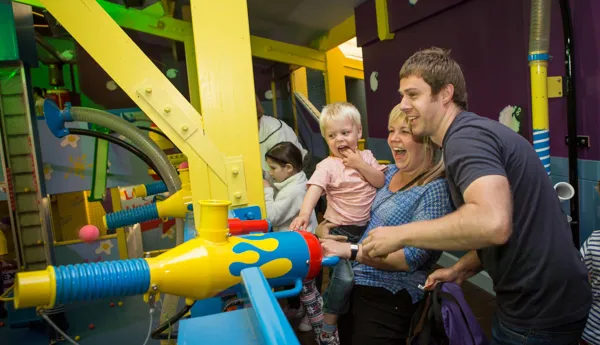 Play Areas
Throw yourselves into soft play fun at Justin's House Pie-o-matic Factory or enjoy the slides and climbing frames at Hey Duggee's Big Adventure Badge!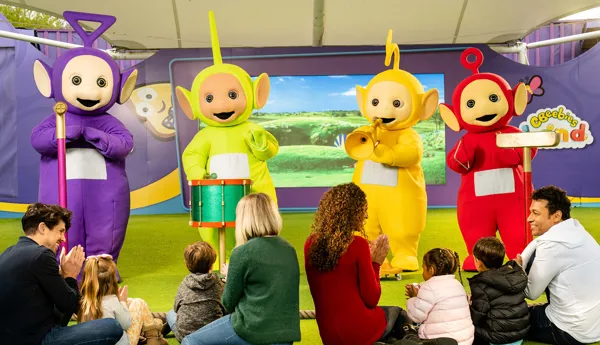 Live Shows
Meet Phoebe, Funella, Fugus and Elmo at The Furchester Hotel Live show before taking a relaxing stroll around the Something Special Sensory Garden.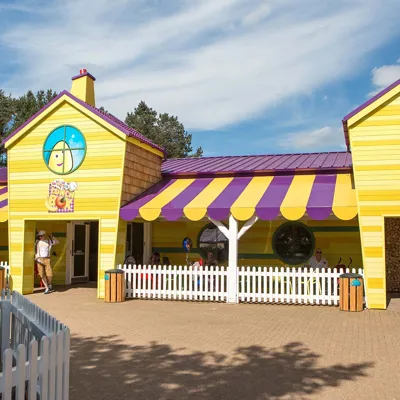 Stop for Lunch
Stopping for lunch doesn't mean the fun has to stop!
Little Explorers Lunchbox is situated in the heart of CBeebies Land, serving up hearty lunches and picnic snacks. With kids menus, activity sheets and high chairs available, this is the ultimate child-friendly restaurant.
Alternatively, take your picnic to Big Fun Show Time and enjoy a range of live character shows. Have lunch with Bing and Flop at Bing's Picnic, or join in with the Teletubbies Live Show!
If you have ventured beyond the colourful realm of CBeebies Land, there are bottle warming facilities available at several theme park food outlets.
These include: Woodcutter's Bar and Grill and The Burger Kitchen near the Towers, Explorers Pizza and Pasta Buffet at Katanga Canyon, and The Burger Kitchen in Mutiny Bay.
Most guests tend to break for lunch between 12-1.30pm. Understandably, this can cause longer queues at food outlets and shorter queues on major rides! Eat early, eat late, or even have a picnic in the queue, to make the most of every minute.
Try something a bit different
There's plenty for young children and toddlers to enjoy beyond the gates of CBeebies Land at Alton Towers. Why not explore the historic gardens of the Towers stately home? There's lots of room to run around or enjoy a picnic on a sunny day.
For slightly older preschoolers, head to the towers for Gangsta Granny: The Ride. Or watch your little one earn their licence in Cuckoo Cars Driving School!
Or, cross Towers Street from CBeebies Land to Mutiny Bay for a trip to Sharkbait Reef aquarium. This SEA LIFE attraction has tanks full of colourful fish at the perfect height for young children to see.
One for the Grown Ups
Parents will love seeing their little ones light up as they come face-to-face with their favourite CBeebies characters. But thrill seeking adults will also be bursting to try one of our iconic rollercoasters. 
Treat yourself to a few exhilarating minutes, just for grown ups. Wicker Man is the closest rollercoaster to CBeebies Land. Or, if you're in child-friendly Cloud Cuckoo Land, you can easily reach Oblivion, The Smiler, Rita or TH13TEEN.
Download the Alton Towers App to receive live queue time information. Choose the ride with the shortest queue and you'll be back to CBeebies Land in no time at all!
On the way out...
A day out at CBeebies Land kids theme park is a memory that small children will never forget.
Theme park photos are available from Octonauts Rollercoaster Adventure or the CBeebies Land Photo Studio.
If you take souvenir photos during your day out, you can request to collect them at the exit. After all, you'll have your hands full during the day!
Once you've enjoyed a family day out at CBeebies Land, you'll want to come again and again! Let us know your own favourite tips and tricks to make the most of our children's theme park resort.
Extend your Day Out
Enjoy more fun with exclusive CBeebies characters at the UK's only CBeebies Land Hotel. Home to themed rooms and a jam-packed hotel entertainment schedule, this family friendly hotel will transform your day out into an unforgettable family short break. An overnight stay at the CBeebies Land Hotel includes interactive live shows and meet and greets from your favourite characters.