THE COUNTDOWN BEGINS! ALTON TOWERS RESORT REVEALS NEW DARK RIDE COMING TO THE THEME PARK THIS SPRING
Tuesday January 24th 2023
Alton Towers Resort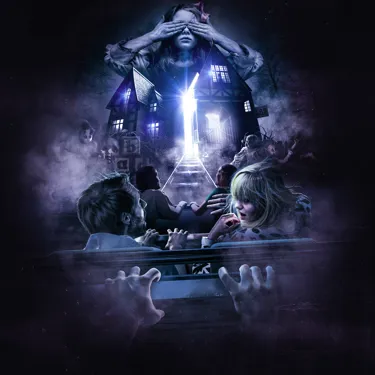 The Curse at Alton Manor is the official name of the new attraction and is set to be the Resort's most immersive dark ride to date.  
An eerie image of the new ride-through haunted house has also been unveiled which hints at what's to come with the attraction when it launches this Spring.  
The Resort is keeping ride details, including the backstory of the Manor's sinister past under wraps for now, however it has said it will be a haunting ride which will frighten and excite both brave youngsters AND adults, as it takes them on a hair-raising journey through the spectacular twists and turns of the cursed manor.  
Although there is limited information around what to expect with the ride, creators of The Curse at Alton Manor are said to have found new and unimaginable ways to scare and surprise fans, with special effects and visuals that have never been seen before from a UK theme park. 
The spooky site where Alton Manor resides was once home to the attraction Duel, however the ride was abruptly closed after the building was repossessed last year due to unnatural activity  in the area. 
Although information around the strange goings-on inside the house is limited, the image offers a set of clues about what's in store for fans who dare to ride The Curse at Alton Manor, but The Resort is leaving it up to fans to figure this out.  
Kate McBirnie, Head of Product Excellence at Alton Towers Resort, said: "Let the countdown begin! The Curse at Alton Manor is no ordinary dark ride. It has all the components of a supernatural tale - it's dark, compelling and promises some thrilling and scary moments along the way. Fans of eerie rides will certainly appreciate this one.  
"More details on The Curse at Alton Manor will be revealed next month, so stay tuned for what's to come."  
Alton Towers Resort is renowned for providing world-class attractions for guests of all ages, including Wicker Man, the UK's first wooden rollercoaster to be built in over 20 years, Oblivion, the world's first vertical drop rollercoaster and The Smiler, the world's first 14 loop rollercoaster, to name a few. The Staffordshire based theme park continues to welcome millions of guests from across the globe, delivering memorable and unique experiences and events each season.  
To keep up to date with the latest news and buy tickets to the park, visit altontowers.com.