2 for 1 tickets with Radnor
Experience over 40 rides & attractions
Pre-book online to guarantee entry
Save with Radnor
Experience over 40 rides & attractions
Pre-book online to guarantee entry
Save with Radnor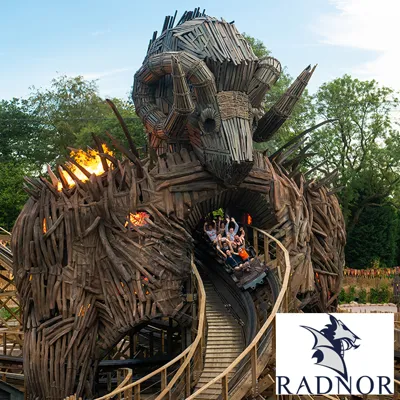 Come to Alton Towers Resort in 2022 and prepare for a thrilliant year at Britain's greatest escape! Whether you're after pure adrenalin-pumping experiences or family fun, there is something for kids of all ages! Throughout 2022, as well as launching amazing new attractions in Cbeebies Land, the Resort will be hosting a season of thrilliant events for the nation to enjoy. At Alton Towers Resort there is something for kids of all ages!
How to redeem your voucher
Redeeming your voucher is really easy! 
Click the link below.
Select the number of tickets you need and choose your date.
Hold on to your Radnor packaging as you will need to present this with your tickets to enter the park.
Enjoy your day out!
Please note, if a valid voucher can't be supplied when entering the Resort, you will need to purchase a full priced ticket at Admissions and entry is not guaranteed.
This voucher ("Voucher") and unique code ("Code") entitles the holder to 2-for-1 entry to Alton Towers Theme Park.  
If the holder of the Voucher redeems the Code online, he/she agrees to be unconditionally bound by these terms and conditions: 
1. If the holder of the Code buys a fully priced ('on the day' priced entrance ticket) using the online code to Alton Towers Resort, ("Attraction") then he/she may take with him/her one other Adult or Child who will enter the same Attraction on the same day free of charge. 
2. The Code can only be redeemed where the holder pays the full Adult ticket price (without any concessions or discounts) as stated at the entrance gate of your chosen Attraction at the time of entry. 
3. The Voucher and Code have no cash value and are automatically void if sold, offered for sale or if any attempt or offer is made to transfer the Voucher and/or Code for value. 
4. The Code is only available on selected Radnor Hills packs. 
5. This Voucher is valid for visits to the Attraction from 1st April 2022 UNTIL 18th October 2024 subject to the excluded dates set out in paragraph 8, and the start and end of season dates stated in paragraph 10. Please note that the Attraction is only open on certain dates/periods of time during the year. 
6. Only one Voucher and Code can be used per person and per transaction. 
7. The Voucher or the Code can only be used once. You cannot use the Voucher and the Code to gain free entry on two or more separate occasions. 
8. PLEASE NOTE THAT THIS VOUCHER IS NOT VALID ON THE FOLLOWING EXCLUDED AND CLOSED DATES: 
Closed Dates: 
Alton Towers Resort: 1st March – 18th March 2022 & 7th November- March 2023* 
Excluded Dates: 
Alton Towers Resort: 4th, 5th and 6th November 2022 
*2023 OPEN AND EXCLUSION DATES WILL BE AVAILABLE FROM ATTRACTION WEBSITES FROM THE END OF THE 2022 SEASON. 
Ticket numbers are restricted on certain dates (e.g. peak holiday dates), please book early to avoid disappointment.  
9. THIS PROMOTIONAL OFFER CAN ONLY BE REDEEMED BY BOOKING ONLINE USING THE UNIQUE CODE FOUND ON THE INSIDE OF THE SLEEVE ON PROMOTIONAL PACKS. The Voucher must also be presented, along with online tickets on the day of visit at the gate entrance.  
10. PLEASE NOTE THE FOLLOWING 2022 SEASON START AND END DATES: 19.03.22 to 06.11.22 (ALTON TOWERS RESORT) 
11. CHECK OPENING DATES AND TIMES BEFORE YOUR VISIT AT WWW.ALTONTOWERS.COM. PLEASE NOTE YOU CANNOT BOOK VIA THE TELEPHONE WHEN USING YOUR VOUCHER. ALL DATES SUBJECT TO CHANGE. 
12. The Voucher is not valid at Secondary Attractions and events including, but not limited to Alton Towers Dungeon, Tree Top Quest, Alton Towers Waterpark, Alton Towers Spa, Extraordinary Golf, secondary ticketed events, concerts, hotel events, Christmas events and Fireworks events at Alton Towers Resort. The Voucher can only be used for standard entrance tickets and cannot be used for priority entrance and/or Fastrack entrance at any Attractions (unless this is expressly stated as part of the Offer). The Voucher does not entitle Early Ride Time. 
13. The Voucher is not valid for accommodation including but not limited to, the Alton Towers Hotel, Splash Landings Hotel, CBeebies Land Hotel, Enchanted Village (Woodland Lodges, Tree Houses), Stargazing Pods at Alton Towers Resort - an additional cost applies. Please check at the Attraction's website for additional costs. 
14. The Voucher remains the property of Merlin at all times and Merlin reserves the right to take possession of the Voucher at any time. The Voucher must be presented at the Attraction entrance and surrendered. Vouchers cannot be presented on electronic devices. 
15. Adult is 12 and over at the Alton Towers Resort. 
16. Entry is free for children under 3 years of age at Alton Towers Resort. 
17. Visitors under 12 years must be accompanied by an adult aged 18 years of age or over at Alton Towers Resort. 
18. The Voucher can only be used as stipulated. The Voucher is non-transferable/not for resale. Any purported transfer or sale of the Voucher will render it void. The Voucher is only valid in the United Kingdom. Photocopies will not be accepted. Admission prices are subject to change. The Voucher cannot be used in-conjunction with any other offer or promotion or concession (e.g. senior citizens, family tickets), reward/loyalty program, pre-purchased tickets.   
9. The Attractions reserve the right, in their absolute discretion, to refuse entry and to close and/or alter all or any part of the facilities including closure of rides and/or attractions for technical, operational, health and safety or other reasons where physical access or operation is not safe, practical or physically possible including over capacity  
20. Please note that the Attractions operate a chargeable car parking policy. Vouchers do not affect the price of car parking. 
21. Size, height, weight, age restrictions and medical warnings apply to certain rides and/or attractions. 
22. All Attraction information is subject to change; please check www.altontowers.com before your visit for the latest information. 
23. Entry to Alton Towers Resort will be subject to the Attraction's terms and conditions of entry, which can be found at www.altontowers.com/tandcs    
24. In the event of circumstances outside the reasonable control of Radnor Hills, or otherwise where fraud, abuse, and/or an error (human or computer) affects or could affect the proper operation of this Voucher promotion, and only where circumstances make this unavoidable, Radnor Hills reserve the right to cancel or amend the promotion or these voucher terms and conditions, at any stage, but will always endeavour to minimise the effect to participants in order to avoid undue disappointment. 
25. If you redeem the offer, your personal data will be processed in accordance with the Privacy Statement set out at https://www.altontowers.com/privacy-policy/ which sets out how Merlin will process any personal data you provide in order to redeem the offer. You acknowledge that (a) the processing is necessary for Merlin to take steps with a view to entering into a contract with you to enable you to redeem the offer, and (b) Merlin shall only use your personal data in accordance with the terms of the fair processing notice. 
26. If any of these clauses should be determined to be illegal, invalid or otherwise unenforceable then it shall be severed and deleted from these terms and conditions and the remaining clauses shall survive and remain in full force and effect. 
27. These terms and conditions are governed by relevant UK law and you and we agree to only bring legal actions about these terms and conditions in a UK court. We will try to solve any disagreements quickly and efficiently. If you are not happy with the way we deal with any disagreement you and we may agree to refer the matter to arbitration but you and we are not restricted from bringing court proceedings. 
For Radnor Hills enquiries visit https://www.radnorhills.co.uk/Promoter: Registered UK office: Heartsease, Knighton, Powys, LD7 1LU.