Midweek Visits
Enjoy a midweek off-peak visit to Alton Towers Theme Park with tickets from just £34, when you book 5+ days in advance
Unbeatable midweek deals
Come to Alton Towers Resort in 2021 and prepare for a thrilliant year at Britain's greatest escape! This spring don't miss your chance to spin back to the 80's and join in the retrotastic vibes as you bounce, spin and fly on 3 new totally awesome and wickedly retro pop-up rides - The Retro Squad!
As well as launching amazing new attractions, the Resort will be hosting fantastic entertainments for the nation to enjoy, like the brand-new Mardi Gras!
Book your Day Passes at least 5+ days in advance and save!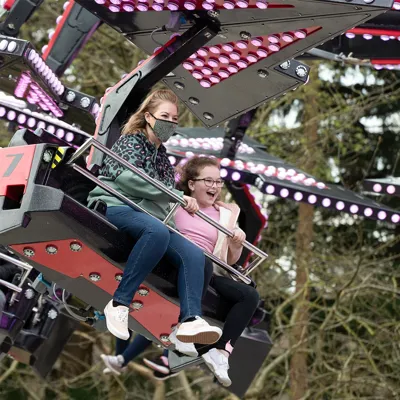 National Scream Day
National Scream Day has been celebrated around the globe since 2020 and aims to raise awareness of mental health, encouraging people to let out pent up emotions. And after a 'rollercoaster' 12 months, Scream Day 2021 could be more poignant than ever before.
Psychologists believe that screaming is good for us – it is seen as an active way to release grief, frustration and anger rather than trying to hold it in, and what better way to relieve stress and anxiety than screaming on a rollercoaster at Alton Towers Resort.
Riding thrill rides and overcoming the fear can have a dramatic, positive impact on mental health. Escaping to Alton Towers Resort could be just what the doctor ordered! Not only do rollercoasters release endorphins, increase heart rate and expose us to 'good fear', riding them can also be therapeutic when we scream.
Experience over 40 rides & attractions
Save up to £33 when you book in advance
Under 3's go free to the Theme Park
Two full days entry to the Theme Park
Save when you book in advance
Under 3's go free to the Theme Park
Entry for an Adult & a Toddler
Under 3's go free to the Theme Park
Excludes weekends & school holidays
Explore Alton Towers Resort