At the heart of what we do…. (it's not coasters)
Friday February 21st 2020
Sian
Merlin's Magic Wand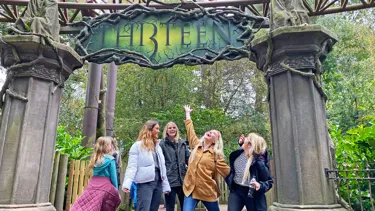 There's something that is always guaranteed to bring a smile to my face, it's seeing the first guests coming down Towers Street in a morning set for a fun-packed day. There's;
Those who hastily and excitedly head purposefully towards their favourite ride for that first thrill
The ones who aren't as familiar with the Theme Park and stroll, huddled together, behind a park map, heads occasionally emerging over the top like meerkats as they peer out. You'll spot the occasional point of the finger as they attempt to navigate the direction they want to head in
The wanderers who simply meander down, absorbing the music and the atmosphere, before spotting and heading towards a track that emerges from the treetops, poking out and enticing them in……
It's the small things in life that can make us smile, and the above is certainly a good example.
Day-to-day, as a Theme Park resort, we look to create these fun and happy moments for everyone who visits, yet we know that this isn't as straightforward for some as it is for others due to circumstance. So, each year, we work with Merlin's dedicated charity Merlin's Magic Wand, who support children facing serious illness, disabilities or adversity, as well as other charity partners to help ensure we bring a smile to the face of those who need it most, during the most difficult, and often most precious, of times. This support often comes in all shapes and sizes and the partnership with Merlin's Magic Wand, enables us to add some extra sparkle to the lives of youngsters in some more less-traditional ways.
I was recently part of a team who proudly unveiled one of our more unusual charitable projects with Merlin's Magic Wand, to help 'make a splash' at the Children's Unit of our local hospital, the University Hospital of North Midlands. It included lots of bright colours, an interactive play wall and a former Log Flume boat lovingly restored and given a new lease of life. The result: a warm, magical and unforgettable welcome area to support children and their families visiting the wards for treatment and care.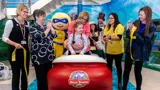 The finished space is set to put a smile on the face of thousands of children undergoing treatment and medical care, thanks to the amazing transformation. I'm sure you will agree that as a kid (or big kid for that matter) this is one entrance you wouldn't forget in a while! As I stood in the foyer after it had opened, I watched as the face of several youngsters quickly change from the anxiousness of arriving at hospital to pure delight (and a little bewilderment) as they came through the entrance of what was once a clinical and functional space, now filled with colour, character and an important selfie opportunity.  For that moment, as they hopped inside the iconic red flume boat, they were truly smiling, happy and in a world of fun away from their worries.
This was all made possible thanks to the fundraising that takes place at Alton Towers Resort and the  Merlin Magic Wand "Magic Spaces" programme, a local outreach project designed to ensure that local children who are prevented from visiting attractions like Alton Towers Resort, due to severe illness, physical disability or other exceptional circumstances still have the opportunity to experience the unique magic of Merlin.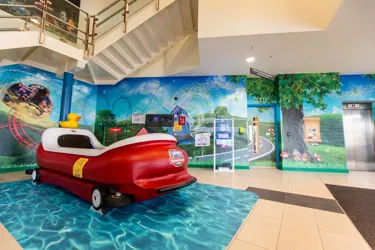 The project also enlisted the support of our amazing creative experts, Merlin Magic Making, the unique inhouse creative team based behind-the-scenes at Alton Towers Resort who work across the globe delivering magical and amazing immersive guest experiences! In fact, I quickly learnt that the Merlin Magic Making team have delivered several fantastically themed Merlin's Magic Space projects, from innovative sensory rooms to state-of-the-art mobile units to help support over 167,000 children and young people through the Merlin Magic Spaces programme!
This new foyer area is the latest in a series of projects delivered by Merlin's Magic Wand, Merlin Magic Making and Alton Towers Resort for the hospital and its patients. Other projects have included the creation and installation of Alton Towers Resort-themed play and social rooms, innovative fully-themed Mobile Entertainment units for those who are unable to reach the social rooms due to illness, as well as hundreds of tickets for patients to enjoy a fun-packed day out at the Staffordshire Theme Park, helping create precious memories and providing much-needed respite for children undergoing treatment.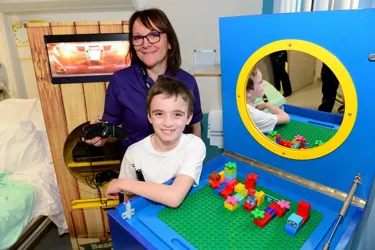 Melissa Hubbard, UHNM Consultant Paediatrician, said: "Coming into hospital can very daunting and a little scary so we are delighted that thanks to Merlin Magic Wand's support we have been able to transform the entrance to our Children's Centre into a colourful themed play area, complete with log flume from the original Alton Tower's ride.
"It has made our large open entrance a more inviting and engaging environment making the experience of arriving at hospital as a safe, fun and non-threatening place to be and gives them somewhere to just be a child away from the clinical environment."
By working with charitable organisations to provide tickets to visit the park we are able to give the gift of a day out to children, and their families, when they need it most; helping them escape everyday troubles and immerse themselves in our fantastical theme park world, whilst creating cherished memories. I'm in the very fortunate position to have met some of these beneficiary families and these charity groups during their visits and nothing quite compares to seeing them free of their worries – pure escapism.
In 2019 alone we donated over 6,000 tickets to children facing illness, disability or adversity, and their families, to help them enjoy a fun-filled day on park. This year, and as part of our 40th anniversary, we want to smash this target and reach even more young people who can escape to Alton Towers Resort. For 2020 we are teaming up with Merlin's Magic Want to pledge to donate 10,000 tickets – more than ever before - to charities and organisations supporting children facing serious illness, disability or adversity; helping to put a smile on the faces of those who need it most and enable young people, children and their families to create precious memories during the most difficult of times.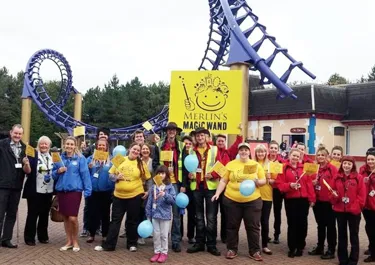 But our charitable endeavours don't end at complimentary tickets. Throughout the year, as employees, we get to take part in fundraising initiatives to help make projects like these a reality, from bake sales for specific causes to McMillan coffee mornings, and family fun nights to memorabilia auctions to raise vital funds to supporting Merlin's Magic Wand and other charities and campaigns.
Alton Towers Resort also makes local donations to support charities and community engagement projects in Staffordshire, provide overnight experiences to local hospices and their child beneficiaries in end of life care, deliver educational and training programmes including Prince's Trust, undertake conservation, restoration and heritage projects, plus much more.
Our Sharkbait Reef by SEA LIFE team also spearhead lots of great initiatives to help us, our community and our guests understand more about our oceans and ongoing vital conservation. Their partnership with the local Uttoxeter Canal Trust has seen them working hard to re-open a section of towpath between Alton village and Crump wood for the local area, as well as help monitor and control woodland management plans. They also host conservation workshops, bug hotel building, butterfly surveying, pond dipping, river cleans, research programmes, litter picks, as well as fundraising for the SEA LIFE Trust to help towards conservation campaigns such as increasing marine protection, reducing plastic litter, Beluga Whale Sanctuary development and protecting sea turtles
– all whilst caring for our very own 450 species of aquatic life in Sharkbait Reef 24/7, 365 days a year!
Their formal and informal education programmes also help guests of all ages understand marine life, threats to habitats and our oceans.  Our larger sharks and stingray residents provide the perfect backdrop for the daily "Ocean Tank Talk' to help people understand food chains, species evolution and conservation. Similarly, the daily 'Ray Tank Talk' provides in-depth knowledge of native rays which surround us here in the United Kingdom and what we can do to help care for and preserve such species along our shores.
Caring for others, our heritage and animals also extends to the environment. Our award-winning initiatives across the Resort to help us reduce our carbon footprint and go green have been going from strength to strength. Our in-house 'Green Team' have been at the forefront of ensuring changes are made from replacing our traditional lightbulbs LED lamps which use 1/10th of the power of a traditional light bulb, to changing our air-con units so that they  automatically revert to low level, energy efficient setting after a guest checks out to prevent energy waste. As of Jan 1st 2019, Alton Towers Resort also become a plastic straw free zone, successfully removing plastic straws from our restaurant and bars, replacing them with eco-friendly and biodegradable paper alternatives - that's reduction of 832,720 plastic straws over the year!
Installation of a Combined Heat to Power unit at the Waterpark in 2019 has also helped Alton Towers Resort reduce its entire carbon footprint more than 15% alone already.
As we enter our milestone 2020 season we're excited to announce more amazing ways we are becoming more green, helping protect our local wildlife, raising awareness of conservation projects and support local causes. Furthermore, we're excited to welcome to the Resort thousands of families, charities and organisations who support children facing adversity from across the UK, thanks to our 40th anniversary pledge to provide 10,000 Theme Park tickets to more children in need than ever before. Projects such as this allow us to help bring a smile to those who need it most, whatever their circumstance; because, after all, it can be the small things that help make us smile.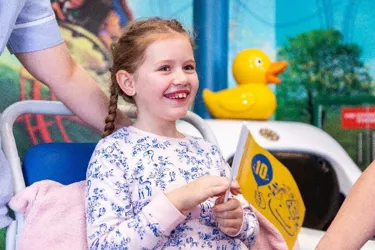 Anyone wishing to apply or donate to Merlin's Magic Wand can do so on their website
Find out more