Embrace the rain: Your guide to a damp & dazzling adventure at Alton Towers Resort!
Friday August 4th 2023
Sophie
Discover our top tips for creating the ultimate splash strategy to make the most out of your next visit to Alton Towers Resort! 
Strike a Stylish Poncho Pose!
Within the Resort, a selection of shops offer the Resort's most fashionable park ponchos. This handy clothing accessory is designed to ward off the rain, ensuring you can enjoy the thrills while keeping your outfit dry and your hair looking fresh. To find our Resort shops, make sure to download the free Alton Towers Resort App!
Download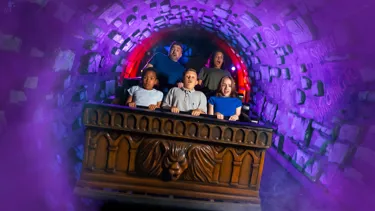 Take cover in Indoor Thrills!
When the heavens open, don't let the excitement dampen. Alton Towers Resort hosts a fantabulous selection of indoor rides for all ages, ready to continue the thrills while providing shelter from the rain. From the enigmatic depths of Nemesis: Sub-Terra to the brand-new 2023 attraction, The Curse at Alton Manor, bask in the enchantment of our indoor attractions and let the fun continue all day long.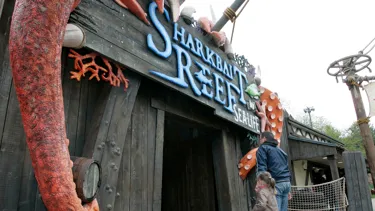 Explore an Underwater World – Without getting wet!
Tucked away in the corner of Mutiny Bay, an adventure like no other awaits: Sharkbait Reef by SEA LIFE! Dive into the depths of this aquatic haven, where a multitude of captivating sea creatures reside. Immerse yourself in an underwater world and absorb fascinating insights into marine life, all while staying comfortably dry.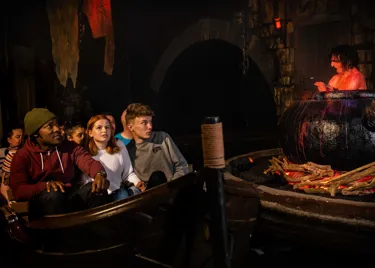 Conquer the Dungeons, not the Downpour…
While rain might seem frightening, brace yourself for an encounter of a different kind – The Alton Towers Dungeons. This 45-minute long, indoor experience promises spine-tingling chills as you navigate deep into the chambers, uncover the many curiosities of the past hidden behind the dungeon walls from just £9pp. You may escape the rain, but can you escape the Alton Towers Dungeons?
Book now
Elevate Comfort – Keep Feet Warm and Dry!
Come rain or shine, comfortable footwear is a must! However, soggy socks can dampen any day. Prioritise waterproof shoes to ensure you can experience the Resort with dry and cozy feet throughout the day. 
Savour warmth with a hot drink!
Scattered across the park, a delightful selection of hot beverages and delicious treats awaits at various kiosks. From Costa to Coffee Lounge, take a comforting pause and relish in the warmth of these indulgent offerings whilst the wet weather passes.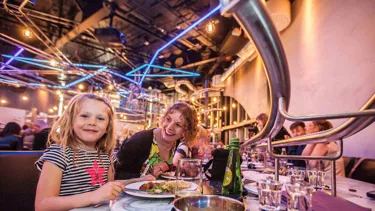 Secure Comfortable Dining – Pre-book Your Meal!
Did you know you can secure a delightful dining experience at the UK's first Rollercoaster Restaurant? Witness your order defy gravity as it navigates loop-the-loops before settling gracefully onto your table. By pre-booking on the Alton Towers Resort website, you can indulge in an unparalleled dining adventure, shielded from the elements.
Remember our Rainy-Day Guarantee!
Alton Towers Resort stands ready to welcome you all season long, whatever the weather. While most thrill-seekers embrace a touch of rain, poor weather can occasionally disrupt ride operations. In this case, specific rides may temporarily close to ensure guest safety. Our Rainy-Day guarantee ensures your experience remains exceptional. For full terms and conditions, visit our website.
Don't let a few raindrops stop you from experiencing the Resort's world-class ride drops. Armed with our wet weather tips & tricks, embrace the rain and dazzle in the damp during your next visit to Alton Towers Resort!