Global Accessibility Day 2021
Thursday May 20th 2021
Kate
As Head of Guest Excellence here at the Alton Towers Resort, it is part of my role to ensure that each and every one of you, our guests, has a safe, fun and memorable experience. Based on your feedback, our teams here are committed to continually listening, adapting and improving to make that guest journey as fantastical as it possibly can be. This is one of the most enjoyable and rewarding parts of my role; to really listen to our guests, whether that is face to face, through social media, feedback or our KPI's and then work with all departments across the Resort to make positive changes to the guest experience based on what you say. Over recent months, we have been listening more than ever and as such, we are committed to enhancing the guest journey with accessibility at the forefront.
We have made some positive changes over recent months and I think there is no better day to share with you what our teams have been up to since last season, and allow you to be fully immersed and a part of our accessibility journey; which is only just beginning!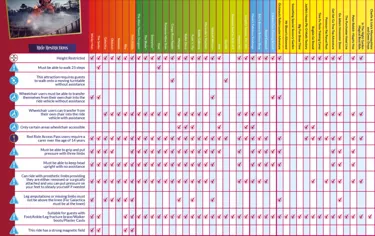 From the moment you are even thinking about where to visit and when, we have changed parts of our website to make information more easier to find with added layers of detail to ensure you are fully informed about our facilities and guest journey before you even purchase a ticket or short break. Guests can now use the 'Accessibility' link on our web page to review key information, along with our ride restriction information and visually see via our Accessible accessibility guide how or what to access. This is also where our guest can pre register for their ride access pass should they require one. In terms of our Ride Access Pass procedure this season, we have removed the need for a wristband to help speed up the entry process to access our rides and attractions and get you out enjoying your day quicker.
Some of you may already have noticed from viewing our website and being here since 12th April, that some our ride restrictions have slightly changed. After a full winter review, we have been able to adapt some of our ride restrictions to give more freedom to guests to access them. In order to do this, we have purchased additional evacuation equipment, as well as aligned our extensive ride and safety training, to our revised restrictions and online access guides. With this consistent approach, along with a fully trained Guest advisory service at both rides and No 1 Towers Street, we have already started to see some great feedback from guests who are getting their thrill fix! With the focus on making our rides and attractions as accessible as possible, we have built a brand new access ramp and step free access for some of our favourites. Duel is now fully accessible from the front of the building, meaning our Pre show is now accessible for guests who use a wheelchair. We also have step free access on two of our Retrosquad rides also.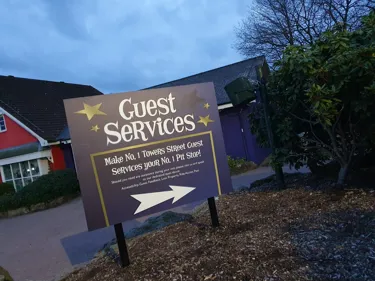 We have moved the Guest Service team up to No 1 Towers Street this season, to allow us to dedicate more time to you to talk through personally on an individual basis how you meet the ride requirements and advise which rides would be suitable throughout your visit. The team also offer radar keys, ear defenders, mobility scooters and wheelchairs to help assist with your visit. In another change this year, we have removed the wheelchair hire charge which means now all guests can hire a wheelchair with a refundable deposit option only. Please do pop in and say hello to the team- they would love to also show you our newly renovated Quiet space where guests can and escape the noise, hussle and bustle of the theme park before they embark on their day.
From a team perspective, we have heavily focused on our service and inclusivity training to ensure our teams feel confident and comfortable in having open conversations with all of our guests. Alton Towers Resort prides itself on delivering memorable and amazing service, treating you all like individual Kings and Queens. Diversity, Inclusion and Accessibility is one of our top priorities and as such, we want to show you our positive and inclusive intent; all with a smile and consistency.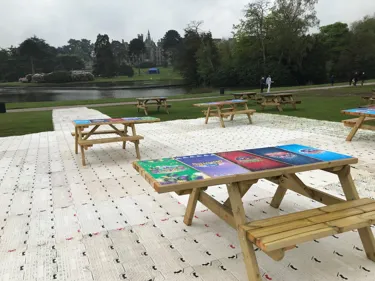 It doesn't stop there! With a full line up of celebrations and entertainment throughout the year, we have a huge stage and seating area on our front lawns for guests to sit with a picnic and enjoy the view from every direction. You will notice a track way with benches that have extensions in this area to ensure all guests can access this space. Our Entertainments team in particular, our ambassadors for Makaton and they love to sign/speak with our guests using this. We will be rolling out another co-hort of Makaton training this season for all of our employees to join and get involved with.
Our environmental team have also helped identify adult changing beds that has been replaced, and also look after our amazing Changing spaces. We have built a third changing space into our Gloomy Wood toilet block by Duel this season. We are already identifying our next location for a fourth! Our hotel teams are also working hard to purchase our own hoists and shower chairs for guest use for those staying over. We also are looking to introduce a quiet space within the Splash Landings Hotel this season, a long with sensory boxes and spaces for guests to escape to. We are also raising awareness about our hearing loops and deaf guards that guests can use throughout their time with us.
What's next?
We will not be stopping there, this is just the start of a really positive journey for us here at the Resort. We have had an extensive review of all of our attractions and rides across the entire Resort which is helping us to identify what or how we can adapt to become more accessible from both a short to long term basis. We are committed to making business decisions with accessibility at the forefront and I welcome you all to share any feedback or suggestions with me! We continue to raise awareness and support our teams through coaching and guidance, to instil an inclusive culture, that shows nothing but safe and positive intent you all.