Scarefest 2016 Preview
Wednesday October 5th 2016
Laura
Archive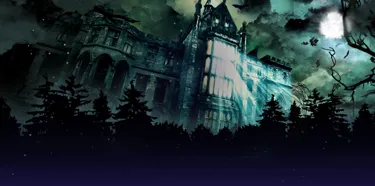 Preparations for Scarefest are now well under way ahead of Saturday's opening day. The pumpkins have arrived, we have hung out the bunting and our spooky characters are all eagerly awaiting their first unsuspecting guests!
So, what can you expect from Scarefest 2016….
First up, we have our brand new scare maze, 'Altonville Mine Tours: Uncover the Legend of the Skin Snatchers'.  Your tour guide will be a seemingly charming Altonville local who will show you around the depths of the town's disused mines. However, the mines have been shrouded in mystery for decades. Legend has it that a creepy family of outcasts made the mine their home and that they still reside there to this day! During this brand new experience you will uncover the dark secrets of the Altonville Mines and discover the truth behind the legend! This maze has a scare factor of 5/6 so you must be 15 to enter the mine.
We are extremely excited to be opening our first ever family maze this year which is suitable for children aged 8+. After joining our monster hunting vlogger in his quest to find out if Monsters really do reside behind the creaky doors of a spooky house, you will be sent on a series of room-by-room spooky missions in order to find your way out. Along the way you will encounter some of the mysterious inhabitants of the house including Venom, Volter, Franky and maybe more….
Also new for 2016 is the brand new 'Freak Show' scare zone which is located on the pathway in between Spinball and X-sector. Are you brave enough to walk amongst the misfits of the travelling circus rejects who have descended on the resort? Beware…their desire for the limelight means that they crave your attention. These curious characters are best avoided if you are under 12!
Returning this year is 'Sub Species: The End Games' our award winning and scariest maze ever! This multi-route, live action horror maze promises to be just as terrifying in its second year. Based in a post-apocalyptic sewer dwelling the End Games will see you entered into a twisted contest as the inhabitants place bets on those most likely to make it out alive… and those who will be fed to the alien species living below ground. This one is not for the feint-hearted and unlike our other mazes you may be touched and could be separated from your group. Over 15's only!
Our most iconic scare maze 'Terror of the Towers: What Lies Within' is also back this year. Set inside the dark, gothic ruins of the Towers you will go in search of the lost urban explorers. You must be 12+ years old for this one.
Scarefest wouldn't be Scarefest without the freaky four joining us for some spooky family fun. Patch, Skelvin, Phil and Franklyn can be found on the front lawns at the bottom of Towers Street between 11am and 7pm (check the Scarefest park map for the full schedule of family fun). We also have flash mobs throughout the morning from the Alton Ancestors who have risen from their graves to haunt Towers Street.
On the 27th October you can meet the stars of Dreamworks brand new Trolls movie, 'Poppy' and 'Branch' who will be located in Cloud Cuckoo Land between 12pm and 5pm.
Also, on selected dates you can enter into Nerfs Ultimate Blaster Challenge! Load up the blaster of your choice and save the resort from a Zombie Strike by hitting the targets in the Nerf Vault! This promises to be great fun and is free of charge with your gate ticket.
All this and we still haven't mentioned our famous rollercoasters which you will get to experience in the dark as night falls and the resort comes alive with spine tingling scary fun! For many it's the highlight of the season and adds a whole new dimension to your favourite coasters – especially TH13TEEN as it twists and turns through the extremely Dark Forrest. This year some of our coasters will be beautifully lit in fantastical Scarefest fashion!
Over in Forbidden Valley the infected post-apocalyptic characters of Dark Apocalypse come to life! They are showing some highly unusual and somewhat aggressive behaviour since they started to roam the area at night!
Over at the hotels the fun continues with lots of eerie entertainment including live shows from the 'Sinister Scott Family' in the Alton Towers Hotel, 'Ringo's Halloween Party Games' in Splash Landings Hotel and 'Spell School' over in the Enchanted Village.
The Rollercoaster Restaurant will be open from 11am until 10pm throughout Scarefest where you can try their new spooktacular dish the 'Rollercoaster Devil Firecracker Pulled Pork Burger'. We won't be taking reservations during this time so just arrive at the restaurant in Forbidden Valley and enjoy your Scarefest feast below the tracks as your food tackles two loop-the-loops before making its 8 meter descent!
We can't wait to welcome you this Halloween! Don't forget to share your Scarefest pictures with us on Facebook, Twitter, Instagram and Snapchat!