Schools out – but how do we create the ultimate school trip?
Friday July 6th 2018
Lizzie
Archive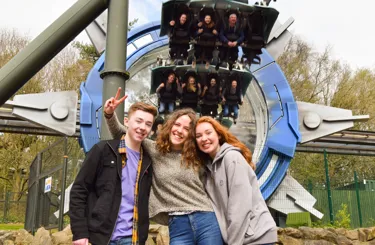 As thousands of pupils from across the UK head to Alton Towers Resort, the theme park's Education Team is busy behind the scenes making sure their out-of-classroom experience is unforgettable!
Jonny Harper, School Brands Manager at Alton Towers Resort, knows that a school trip can be one of your most memorable childhood experiences.  So it's important to get it right!
Jonny said: "So much goes on behind the scenes as we prepare for the end of term school trips that bring thousands of children from all corners of the UK. They come expecting a day out to remember and we pride ourselves on delivering that.  Our world-beating rides are just the beginning … we also want to give them an insight into how the park works, and all the various people and careers that go into running a resort like Alton Towers."
Jonny and his team deliver unique interactive workshops throughout the year, covering everything from how to build a rollercoaster, the science behind why people love thrill rides to a behind the scenes look at how the nation's favourite theme park works! From the moment pupils arrive, Jonny and his team have set up a special entrance for the school parties; and every detail of their day has been planned to ensure the trips run smoothly and safely. 
Jonny added: "Over the final two weeks of term, we have dozens of additional staff members each day to support the school visits, from getting them in and out of the park, to helping them find the rides they want to experience and see.  It's all about ensuring all our visitors have the best possible visit."
This year, the team has also arranged for schools to enjoy an extra half-hour on park before it opens to the public to help them make the most of their trip and enjoy even more thrills.
The Education Team are also specialists in supporting pupils with additional needs to ensure they have all the assistance and support they require.
"It's important to us that everyone is able to enjoy their day out at Alton Towers Resort, and we're continually reviewing how we can improve our facilities to ensure everyone feels welcome here. Earlier this year, we opened new quiet spaces and relaxation rooms for those who may struggle with anxiety or find large crowds stressful. The spaces provide a tranquil escape with sensory objects and atmospheric music to help guests feel calm."
It's not just the pupils who get a first-class service as the team ensure teachers get the VIP treatment too, setting up a dedicated area for them with Wifi, workspaces and refreshments.
Following the trip, the Team ensures the fun continues by providing educational resources to use in the classroom that meet national curriculum requirements in a fun and unique way.  So the learning continues long after the thrill of the rides!