Cuckoo Cars Driving School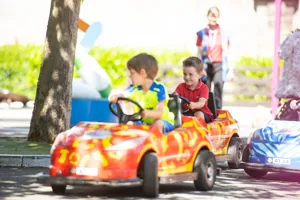 The Driving School
Get behind the wheel of one of the crazy, colourful Cuckoo Cars - the hottest wheels in town! Show off your supercool style as you tootle around Cloud Cuckoo Land, meeting the lively locals who are awaiting your visit.
Just for kids!
The Alton Towers Driving School sets kids free on their very own network of roads. With 30 cars whizzing around the track, there's plenty of interactive fun on this cuckoo kids ride. Whilst most parents want to join in the fun, this is one family theme park ride that's just for kids!
Theme Park Top Tip: parents can join in the family fun and take photos from the footbridge.
Ride Features
Bubbly Car Wash
To keep our miniature cars in the best colourful condition, we built a car wash on the Driving School course! Kids love driving through a cloud of bubbles before they get back on the road.

Crossings and Giant Cones
Everything is larger than life in Cloud Cuckoo Land and the traffic cones are no different. Swerve the colourful obstacle course and remember to stop at the traffic lights as you start to learn the rules of the road.

Walkway Bridge
For grown ups and older family members, there's still room to get involved. Cross the bridge from Fountain Square that rises high above the Cuckoo Cars Driving School. Wave to the young drivers and take the opportunity to take some action-shots!

Colourful Characters
Look out for Dolly, the Lollipop Lady and the local giant hedgehogs, waiting to cross the road. The oversized, eccentric residents of the Cuckoo Cars course are always around to say hello!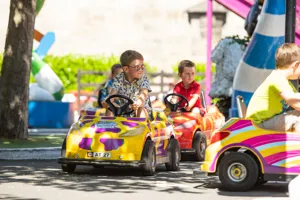 Ride Safety
Although parents can't come along for the ride, child drivers are overseen by Alton Towers marshals. They can lend a helping hand in the event of a traffic jam.
There is a maximum of just 30 cars on the track at any one time. This ensures that every child has room to explore, without the risk of being hemmed in!
Each miniature car has a top speed of 4kph. So there's no chance that children with get any points on their new driving license for speeding!
Ride Stats
Location: Cloud Cuckoo Land
Top speed: 4kph
Duration: 4 minutes
Capacity: 450 riders per hour
Can you ride?
You must be at least 1 metre tall and 4 years old to earn your license at our Driving School ride. As our cars are specially designed for young children, anyone over 1.4 metres tall can't drive.
This is one ride that all the parents want to have a go on and can't. [...] Learning to stop at the lights and driving on the right side of the road is just as important as the accelerator and the kids seem to really enjoy the responsibility.