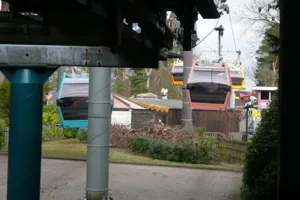 Welcome Skyriders!
Up in the clouds, float hundreds of feet up in gondolas all the colours of the rainbow. Find your jaw dropping to the floor at the sights over Alton Towers and beyond.
Take in the Views
Looking to explore our sprawling gardens without having to walk? Hop aboard the Skyride and witness the famous flower beds and foliage in all their glory from above.
Watch as our world class rides and attractions whiz and race below you on your journey among the clouds.
Ride Stats
Young children must ride Skyride with an adult (18+).

Skyride stations can be found on Towers Street, In the Forbidden Valley and in Cloud Cuckoo Land.