A thrilling balancing act
Wednesday December 13th 2017
Steve Woods, Health & Safety Director
Archive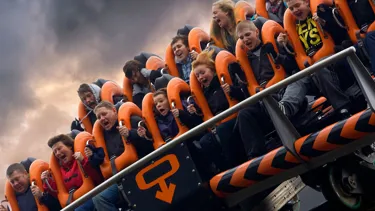 People often ask me how we run the best, most thrilling and exhilarating rollercoasters in the world while keeping our guests completely safe? 
That's the daily balancing act we face here at Alton Towers Resort.
As our group safety boss Dominic Wigley put it recently, 'we're here to provide 'safe, memorable experiences'. And as Health & Safety Director here at Alton Towers safety is my primary concern.
Of course there's plenty that's memorable for all the family here at ATR. But we've built our name on launching some of the most exciting, ground-breaking rollercoasters in the world. Visitors come seeking the heart-racing, spine-tingling 14-loops of The Smiler and stomach-churning vertical drop of Oblivion.
And with our latest attraction 'SW8' due to open in 2018, safety is very much at the forefront of our minds.
We know that confidence in safety at theme parks has been damaged over the last couple of years. So when I joined ATR back in 2016 I made it my mission to restore our guests' confidence so they only ever experience the thrills they choose to take on. 
That's meant taking action to:
Reinforce culture that safety ALWAYS comes first
Work across the whole Merlin group to put safety first 
We now have a special website dedicated to safety and everywhere you go at Alton Towers you'll see reminders of our 'Six Safety Spells' 
Increase training for our operating staff and management teams
Add more sensors and automatic safety stops to our rides
Build more stringent daily checks before any coaster is given the 'OK' to open
Now, if we have the slightest hint that something's amiss, we'll stop a ride to check it before letting it continue operating. The vast majority of the time it's just a precaution, but better safe than sorry. Of course, no-one wants to visit the park and find their favourite ride isn't working. And we hope our guests will be patient with us. Sadly, posting to social media won't get the ride up and running any quicker!! So with all this hard work going on we're confident 2018 will be our most thrilling, memorable and safest year yet! Want to know more about why rides stop, and what happens if they do? Watch these short videos from our Operations Director, Francis Jackson.
To find out more about Merlin's approach to keeping our guests and staff safe please read: