Alton Towers Resort awarded national recognition for accessibility and inclusivity by VisitEngland
Wednesday June 22nd 2022
Elle
We are thrilled to announce that here at Alton Towers Resort we have been recognised for the outstanding delivery of accessibility and inclusivity provision to support our guests, in doing so we have been awarded a national accolade from VisitEngland.
The prestigious VisitEngland Awards for Excellence were held at the Library of Birmingham on 9th June, hosted by broadcaster and author, Claire Balding CBE. The award was presented to the Resort for the roll out of employee Makaton training, investment into new facilities such as dedicated Changing Spaces and Quiet Rooms providing sensory respite, as well as the introduction of new attractions that have been consciously designed with accessibility, inclusivity and neurodivergence in mind. Previous to being awarded the Silver Accessible and Inclusive Tourism Award for VisitEngland, the Resort had also been awarded the gold award in the accessible and inclusive tourism award category for regional Staffordshire.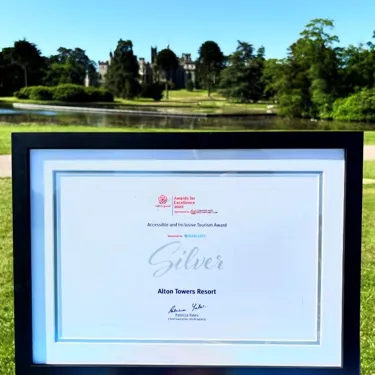 Here at the Resort, we truly believe in first-class experiences for all, and we love providing a fun-filled and exclusive escape to guests of all abilities. We have worked with AccessAble and the British Disability Forum throughout the past year to improve the experience for all our guests. This includes the introduction and expansion of hearing loops, mobility scooters, wheelchairs, ear defenders, accessibility map, free carer tickets, as well as hoists, shower chairs and deaf guards in the Resort accommodation - plus much more.
We recently spoke to The Atwal-Brice family who have visited the Resort this year and they said: "What Alton Towers Resort have done to improve inclusion and accessibility is amazing. They have gone above and beyond to create a Resort that is much more accessible with not one, but four changing places facilities, and improved play facilities like the new Hey Duggee Big Adventure Badge accessible wheelchair friendly attraction. The team are working hard to make sure more families like ours can enjoy the park regardless of ability or disability."  
You can read about the Atwal-Brice family here: The Atwal-Brice Family : The Atwal-Brice Family (atwalbricefamily.co.uk) 
We have also worked closely with a multitude of inclusivity experts and ride manufactures, in a full review of the Resort's ride restrictions and equipment. This has led to significant improvements in our ramp access across the Resort and saw the introduction of our brand-new access lifts at 5 of the Theme Park's iconic rides. In total there have been 18 successful new enhancements to aid ride accessibility across the Resort, with more plans in place for further enhancements by the end of the year. Please find out more about our Theme Park Accessibility here: Theme Park Accessibility | Alton Towers Resort 
We are also proud to offer a Ride Access Pass (RAP) to guests who may find it difficult or are unable to stand for long periods of time due to a physical disability, or a learning or emotional impairment. Covering a wide range of the Resort's beloved rides and attractions, the RAP places guests in a 'virtual queue' to ease the strain of queue line waiting. In recent changes made to the RAP, guests must now apply for their pass 7 days before visiting the Resort through our online form. More information on the RAP and the application process can be found here: Ride Access Pass | Alton Towers Resort 
In March, we rolled out our Makaton training to our frontline Theme Park staff, to help communication with our guests, and to help them feel more included. Makaton trainer Amanda Glennon said it makes a "huge difference" to people. "The expectation is really low because there aren't very many places outside your daily life where you can actually walk in, and somebody just be able to sign hello to you". With over 100,000 children and adults using Makaton as either a main method of communication or to support speech, we are so proud to have this method of communication across the Resort, we feel this is particularly important with our young guests visiting CBeebies Land and the CBeebies Land Hotel.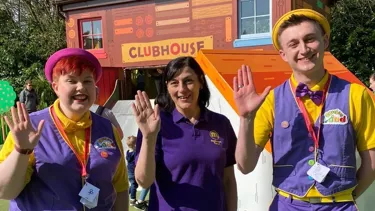 In addition to Makaton training to frontline staff in CBeebies Land and the CBeebies Land Hotel, we unveiled our three brand-new CBeebies Land attractions for 2022, each designed with inclusivity and accessibility integrated within each experience. Hey Duggee Big Adventure Badge, JoJo and Gran Gran at Home, and Andy's Adventure Dinosaur Dig, consciously feature several accessible and inclusive features for families. This includes a bespoke double-width slide allowing for joint use opportunities for children with carers, ground-level sunken trampolines, low-level interactives, wide low-level steps to support those with low mobility and suitable for wheelchair users.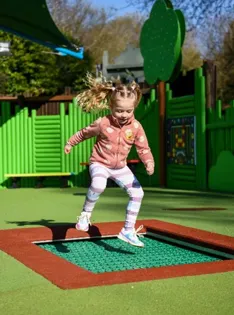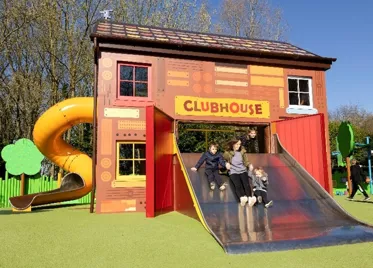 We are so truly proud to have been awarded this prestigious accolade, in winning the Silver Accessible and Inclusive Tourism Award, we are demonstrating our desire to deliver immersive and unforgettable experiences for every disability need and requirement for our guests.  All further information about accessibility, including special facilities, can be found here: Accessibility - Special Facilities | Alton Towers Resort