Let the good times roll this May Half Term as Mardi Gras returns to Alton Towers Resort!
Friday May 19th 2023
Laura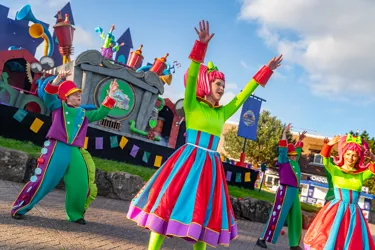 Get ready to celebrate because we're bringing the Mardi Gras party back to your favourite theme park.   
You're in for a treat with our carnival-style celebration, set to dazzle you with high-energy entertainment for the ultimate Towers Street party. As soon as you enter the theme park you'll be met by an eruption of entertainment. We'll be kick-starting your day on Towers Street with the Towers Street Krewe Party! A feel-good celebration set to sizzle the senses, filled to the brim with exciting musical performances and show-stopping costumes. But the entertainment doesn't stop there. Guests can expect to see a variety of entertainment and live music throughout the day on Towers Street and Food Street.  
Did someone say Food Street? It's making a comeback and our eyes are already popping with anticipation. Located in front of the iconic Towers, our food stalls have got delicious food from around the world including Mardi Gras King Cake, classic jambalaya and refreshing slushie cocktails. We've transformed the area around the lake into our very own Food Street giving guests the opportunity to gorge (we mean experience) a variety of different dishes from around the world. As guests pass by, they won't be able to resist the aromas of summer and the tastes of the deep south. They can expect to indulge in BBQ flavours of the Louisiana Hickory Smoke Train and enjoy some tongue-tingling BBQ beef, pulled pork or chicken wings. Or they can head to Cajun Creek and tuck into jambalaya and gumbo stew or take on the undisputed classic dish of the deep south, the Po' Boy. A hugely popular sandwich in the deep south made with scampi and Cajun hot sauce mayonnaise. There's also an array of family favourite foods such as deli sandwiches, chilli, burgers, fish finger sandwiches and chips, for even the fussiest of eaters. Not to mention a huge selection of sweet treats such as ice cream, crepes, and donuts with the biggest selection of toppings and sauces, perfect for sharing. 
After grabbing some of their favourite foody treats, guests will be able to sit back, soak up the atmosphere, and feast their eyes on our spectacular 'Takin It to The Streets' show. A high-energy, live entertainment extravaganza by our Mardi Gras Krewe performers. Our awesome Krewes are themed to each area of the park with flamboyant costumes and their own static parade float, as they battle for your favour. There's no better way to let your lunch go down!  
Now, every Mardi Gras needs its King and Queen, so we'll be on the lookout for a special couple to crown. But how do you get the crown, and do I need that in my life?  I hear you ask. And yes you do, is the answer! As once you're anointed our King and Queen you are our official VIPs for the entire day. Our VIPs receive an exclusive VIP package including platinum fast tracks, food and retail vouchers, entry into the Alton Towers Dungeon and more! No queues, free food, and treats. Exciting times, so make sure you're on Towers Street around 11 am, dressed in your finest Mardi Gras inspired outfit, for the chance to be chosen and crowned during a lavish masquerade ceremony. If King Charles III hadn't just been crowned, it'd be the best coronation you'll see all year!   
There'll also be plenty of time to ride the Resort's thrilling world-class rollercoasters and experience our first-class family attractions, including the newest spooky addition to our line-up; The Curse at Alton Manor. But make sure you're back on Food Street at the end of the day for our fantabulous Mardi Gras parade. An immersive, interactive experience, it's the best way to end your day on the theme park.   
If one day just isn't enough, guests staying for a fantastical short break this May half term can expect to find our hotels getting into the party spirit with even more exclusive entertainment, food and drink, including limited edition Mardi Gras cocktails! Just what you need to continue the party into the evening.  
Make the most of your Mardi Gras visit and check out our top tips for all the hints and tricks to make the most of the party!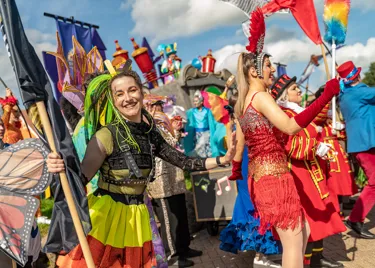 Download the free 

Alton Towers Resort App

 and theme park like a pro!
Get up-to-the minute queue times for all your favourite rides, use the map to navigate around the park, download your digital ride photos, upgrade your tickets and even check in to your hotel room with ease thanks to our free app!  
Fastrack your way through the theme park!
Looking to reduce your waiting time this May half term? Why not upgrade with a Fastrack, giving you priority pass access to our dedicated ride entrances, meaning you can maximise your time on thrilling coasters! We have a range of Fastracks available depending on what rides take your fancy!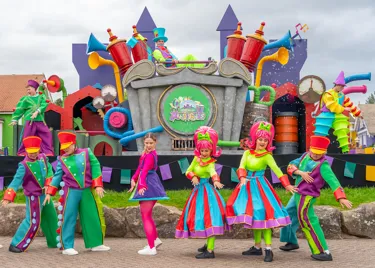 Be greener and car share
Car parking charges apply at the Resort. Car sharing is not only better for the planet it can also save money by splitting the £7 car park charge between friends and family. Visiting from the local area? Selected buses operate from the nearby cities and Stoke-on-Trent railway to help you travel more greenly to the Resort. You can find directions, bus timetables and train information here. As a Resort, we are doing our bit to be kinder to the planet too. You can learn more about this here.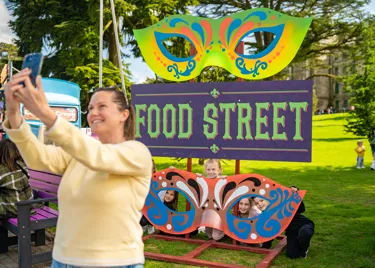 4. If you snooze you won't lose (out) 
In fact, you'll make the most of it thanks to evening entertainment exclusively for our hotel guests and free parking! Throughout Mardi Gras, we have lots of options to help you turn your visit into an unforgettable overnight experience. Thanks to our range of themed accommodations, you can choose from self-catering Stargazing Pods for as little as £130 on selected dates during the holidays, based on a family of four, the calypso climate of Splash Landings Hotel (from £237) or the colourful world of the UK's only CBeebies Land Hotel, uniquely designed for young families. Whichever you choose, it will be a night to remember!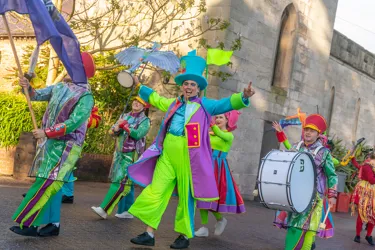 Our ultimate top tip…..
Did you know that our advertised close time is the time our ride queue lines will typically close on many of our rides? Don't miss out on your last ride. Getting into a queue a few minutes before this time will ensure you get that all-important last ride of the day – result! 
And there you have it! We hope our inside look at Mardi Gras and May half term is useful for your fantabulous adventure. We can't wait to see you all soon. 
Tickets for the Theme Park start at £36pp and the Mardi Gras experience is included in the price of general admission.  
Find out more