No pane no gain!
Friday January 26th 2018
Justine
Archive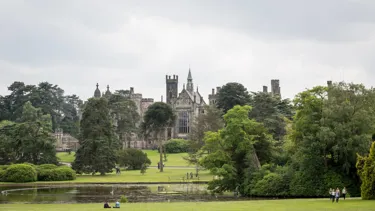 Gardens?! They may not be the first thing that comes to mind when you think of Alton Towers Resort …. But perhaps they should be? 
Whether you've soared over them in the Skyride, or got lost trying to walk to Rita, you can't ignore the sheer beauty of ours.
Our gardens took shape in 1810 as a pet project of the 15th Earl of Shrewsbury (those who've ridden Hex may know a little about him already!). 
He invited the best architects of the day to transform barren farmland into the beautiful gardens seen today. 
The Grand Garden Conservatory is one of the Gardens' most iconic features. Completed in 1820, the Grade II* listed building was home to some of the first bananas grown in the UK. No, seriously!
The 6th Duke of Devonshire (1790 to 1858), on receiving one as a gift, described it as "that most beautiful and curious fruit".
Even back then, Alton Towers was leading the way! 
With such rich heritage, we'd be bananas (sorry…) not to preserve such a beautiful building. So, at the start of 2017, we committed over £1 million to doing just that. 
A diligent team of experts has removed, cleaned and replaced around 11,500 panes of glass, repaired and re-painted wooden frames and replaced warped iron domes.
New damp-proofing throughout will keep the building fresh for years to come. 
The conservatory's most eye-catching features are the 'finals' which artists have restored to their former glory using historic photos for reference
Throw in some extensive repairs to the stonework, and the replacement of original iron grills in the floor, and we have a restoration to be proud of! 
It's one of the reasons we think a visit to our Theme Park isn't complete without a garden stroll. Next time you find yourself near Mutiny Bay, take a wander down to the Grand Garden Conservatory.
We'll be featuring more of our fantastic heritage work in future blog posts!