Corkscrew - The rollercoaster that put Alton Towers Resort on the map
Friday April 3rd 2020
Chris, TowersTimes
AltonTowersTogether
If you are a fan of Alton Towers Resort, then no doubt you will know about the iconic Corkscrew rollercoaster. Opening in 1980, Corkscrew was a landmark investment for the park, and one which literally doubled attendance in a couple of years due to its popularity.
In 1979, John Broom, one of the original Directors of Alton Towers, wanted to install a flagship attraction that would be unique to the UK, and set the benchmark for thrills in the theme park industry. John heard about two similar rides which were opening in Europe by Dutch manufacturer Vekoma. This new generation rollercoaster was called 'Corkscrew with Bayerncurve' and opened to huge crowds at Holiday Park in Haßloch, Germany, and Walibi Belgium in Wavre, Belgium.
Providing a huge thrill in a compact space, the rollercoaster model would be a UK first, high capacity to ensure the queues would never be too long, and would fit nicely in a new area of the park called Talbot Centre. Construction commenced in winter 1979, with the ride opening to a fanfare just before Easter 1980. Just some of the fascinating press coverage can be found in the following video: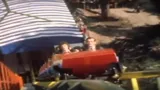 By today's standards, Corkscrew's statistics pale in comparison to newer attractions, but here's a few facts about the ride:
Length: 750m
Speed: 40mph
Height: 23m
Duration: 1 min 30 secs
Capacity per train: 24
Number of trains: 2
Capacity per hour: 1400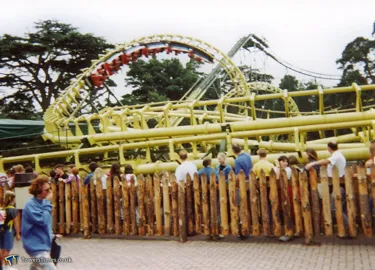 The ride started with a slow climbing lift hill which was painted green to camouflage the structure with the surrounding treetops. Galactica's chain lift and the top of Rita's first hill have also followed this scheme to ensure attractions in the park do not impose too much on the beautiful Staffordshire Moorlands scenery.
Once the train crested the lift hill, riders traversed a 180-degree curve, before descending a large drop where the maximum speed of 40mph was reached. After rising up a hill into another drop and turn, riders sped through the ride's flagship element, two consecutive corkscrews which turned guests upside down twice. A quick flash of the on-ride photo led into several more drops, turns and helixes, before the train entered the final brake run and back to the station.
I first rode Corkscrew in 1992 when it was the largest and most thrilling attraction in the theme park. As a young person, I was terrified, anxious, but intrigued to ride the rollercoaster which I had seen so much on TV and in the press in years prior. I found Corkscrew fast, thrilling and intense, but also bumpy, which would be a guest feedback trend in years to come. The ride was everything I imagined it would be, and fuelled my appetite to ride other exciting attractions in the UK and beyond. That passion turned in to the community I am part of today, TowersTimes & SouthParks, where we bring like-minded people together to enjoy the theme park and attraction industry.
As Alton Towers transitioned from a traditional amusement park to an immersive theme park, Corkscrew's appearance changed over time. Originally a part of Talbot Centre, which later became Festival Park, the rollercoaster looked great, but never had a real theme. The most significant changes took place during the winter before Ug Land was introduced in 1999. A fun, vibrant prehistoric world that featured dinosaurs, cave men and intricate theming, Corkscrew's track and trains were repainted, station appearance updated, and dinosaur bones and skeletons placed in and around the ride. Guests waiting in the queue would pass under a huge dinosaur skeleton, which made waiting much more fun, and helped bring the experience up to the standard of other recently introduced rides in the park such as Nemesis and Oblivion. Corkscrew's jagged, spiny track complemented the theme of Ug Land and may have been an influence when Tussaud's creative team were designing the look of the area.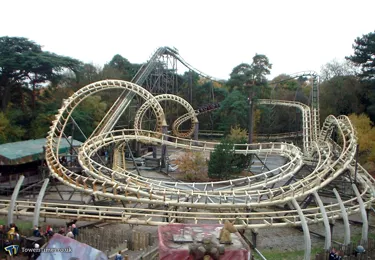 With the introduction of Rita: Queen of Speed in 2005, Corkscrew's theme was blended with that of Thunder Rock Valley which brought the two attractions together in a jovial racing and prehistoric theme. Rita's first brake run supports were designed to straddle over Corkscrew's penultimate turn in to the station, and the large gap with a vacant area beneath can still be seen today.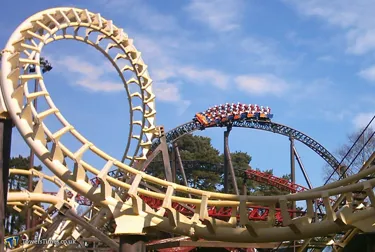 In 2008, rumours surfaced about Corkscrew's removal as the ride hardware was coming to the end of its serviceable life. Sure enough in October of that year, Alton Towers Resort announced that the iconic attraction would close permanently at the end of the season. It was evident that the 28-year-old ride still had a loyal group of fans, and a final farewell event was held to celebrate the Corkscrew's life at the Resort.
Although Corkscrew was dismantled and replaced by TH13TEEN in 2010, the presence of the ride lives on in the entrance plaza where the iconic double inversion element now resides as part of the grand entrance to the theme park.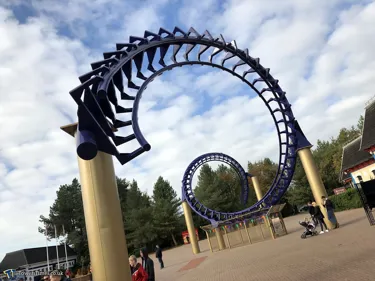 Corkscrew will always have a special place in my heart for being one of the first big rollercoasters I ever experienced. The ride is responsible for setting the benchmark for thrills at Alton Towers which has been followed by the successful series of Secret Weapon rollercoasters that we know and love today.
For more information on Corkscrew and other former Alton Towers Resort attractions, please check out our vast history section on the TowersTimes website:
https://www.towerstimes.co.uk/history/
Thank you to Alton Towers Resort for asking us to contribute to the #AltonTowersTogether campaign. I have enjoyed sharing my memories and look forward to others doing so too.
See you at the Resort soon,
Chris