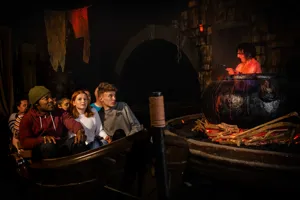 Laugh and Scream!
You'll be screaming with laughter whilst being sentenced by the Bishop of Stafford, surviving the plague, enduring the Torturer and making a stop at the Witch of Burslem's cottage… to come face to face with her ghost!
Dungeons ticket just £3.50 when purchased with school tickets. Best suited to peasants and students aged 10 and above.
Make a provisional booking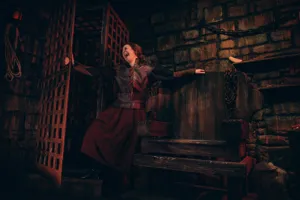 Exclusively For School Groups!
A brand-new, FREE, experience available when you book your Dungeon tickets!

Try to survive our 45-minute Behind the Scenes Tour!
Led by a dastardly Dungeon performer, take a behind the scenes tour and learn about the many components it takes to create our immersive Dungeon experience. Focusing on special effects and performing arts, you'll learn about the inner workings of the Dungeon and what it takes to make the peasants inside scream with laughter!

Behind the scenes tours available at 11.30am and 11.45am
Your Dungeon experience will take place after the tour at 12.30pm or 12.45pm

To reserve the Dungeon experience and the free tour with your theme park visit simply complete our online provisional booking form. In the 'which attractions are you visiting' section, choose Theme park and The Alton Towers Dungeon. In the additional details box state that you would like the free behind the scenes tour and which time slot you would like.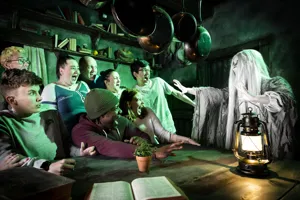 Want a Just Dungeon School Trip?
Come along for our Dungeon experience and our Behind the Scenes tour and be back in school for lunch! For the first time we're giving schools the opportunity to visit our Dungeon without a theme park ticket! That's up to 2 hours of immersive Dungeon time for just £3.50 per student.
To reserve simply complete our online provisional booking form, choose 'an Alton Towers Dungeon visit' and let us know you'd like a 'Just Dungeon trip' in the additional details box.
Book now